4 Mistakes to Avoid After a Car Accident in Tennessee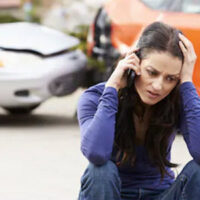 A car crash is one of the most traumatizing and stressful things that can happen to you. So many things can go wrong following a car crash, which is why it is essential to understand what mistakes you need to avoid after being involved in a motor vehicle accident.
The steps you take following a car accident in Tennessee can impact your claim and ability to recover damages. That is why you should consult with a Nashville car accident lawyer to avoid making mistakes in the claims process.
What Mistakes You Should Avoid After a Car Crash
Some of the most common mistakes to avoid following a car crash include:
Not calling the police
Tennessee law requires you to report a car accident to the police if the crash resulted in bodily injury, death, or property damage of $50 or more (Tennessee Code § 55-10-106).
It is always a good idea to call the police not only because doing so may be required by law but also because police officers can help you document the accident. The police report, along with videos and pictures taken at the scene, will be valuable pieces of evidence in your car accident case.
Admitting fault
Some people who have been involved in a car crash admit fault without even realizing it. A driver may accidentally admit fault by saying "I'm sorry" or "I shouldn't have done that" or other phrases that may be misconstrued as an admission of fault.
The last thing you want is to be held partially or fully responsible for a car accident that was clearly the other party's fault. Tennessee follows the doctrine of modified comparative negligence, which means your compensation is reduced in proportion to your degree of fault.
Not seeking medical attention right away
One of the biggest mistakes that could negatively impact your claim is failing to request medical attention as soon as possible after the accident. Seeking medical treatment immediately after the crash is critical to document your injury.
By failing to seek medical attention right away, you are giving the insurance company an excuse to challenge the origin of your injury or dispute the severity of your injury.
Accepting an initial settlement offer
The insurance company may make an initial settlement offer within weeks or even days following your car accident in Tennessee. However, it is not advised to accept an initial settlement offer if you have not calculated all of your damages and losses. Also, do not sign any papers from the insurance company without consulting with a lawyer first.
Hiring a Nashville car accident attorney can help you recover the damages to which you are entitled. Your lawyer will investigate your case to determine how much compensation would cover all of your damages.
At Calhoun Law, PLC, our attorney Colin B. Calhoun never settles for less than his clients deserve. Schedule a case review by calling 615-375-4773 to ensure that you avoid mistakes after a car accident in Tennessee.