Ambulance Rides After An Accident Injury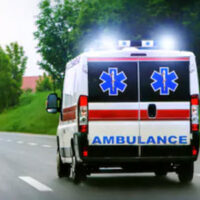 After a car crash or a slip and fall accident within a Tennessee business, someone at the scene may call an ambulance. If this happens, you may be wondering if an ambulance is required. But in reality, even if you do not believe you are seriously injured, another may have noticed your injury is more serious than you think it is.
While many want to hurry back to the schedule of events they were planning for prior to an accident injury, you need to take the correct steps to fully heal. Medical assessments are necessary to acquire an appropriate and complete treatment plan. Plus, your medical record can serve as valuable evidence should a personal injury claim or lawsuit advance in the future.
Aren't Ambulance Fees Expensive?
Yes, ambulance rides are expensive, but they could be part of your damage recovery settlement package. Share your list of accident expenses with a Nashville personal injury lawyer to learn about next steps.
Whether you take an ambulance to a hospital, visit an urgent care center, or go to see your primary care provider after an accident injury, seeking medical care is an important part of the healing process. Many experience an adrenaline surge in the aftermath of a trauma, which can lead to individuals not feeling the pain of an injury until a later date. Having your injuries assessed by a licensed healthcare professional as soon as possible will lead to optimal health outcomes and could straighten your need for financial recovery.
What If I Drive Myself to a Health Center?
Some people are able to drive themselves to the doctor after a car crash or slip and fall event, but if you are bleeding, cut, and feeling lightheaded, taking an ambulance or having another driver could be in your best interests. There are situations in which driving yourself is dangerous, particularly if you do not understand the extent of your injuries or there is serious harm you are unaware of.
Additionally, if someone calls an ambulance for you and you refuse the care of the EMTs, this could create problems for your personal injury claim in the future, if you choose to pursue compensation. An ambulance refusal could be viewed by an insurance company adjuster as an indicator of your injuries not being as serious as you are asserting in your claim, for instance. Often it is better to be safe and take all the care available.
Did you take an ambulance to a Tennessee hospital after a traffic accident? Ambulance rides and other medical expenses can quickly add up following an accident injury, talk to the qualified Nashville personal injury lawyers at Calhoun Law, PLC about compensation options. Our attorneys have the experience to know how much a claim is worth. Once the value is assessed, our lawyers will fight for a full and fair settlement package while you focus on healing. Calhoun law can advocate for your needs, whether your accident was minor or severe. Reach out today for a free and confidential consultation.