ATV Accidents in Tennessee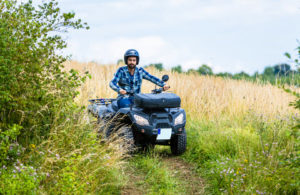 While ATVs offer an exciting and entertaining ride, there is still the possibility that accidents can occur while riding one of these vehicles. The United States Product Safety Commission reports that approximately 90,000 people a year are injured and 120 people are killed due to ATV accidents in the United States. Within the past month, an ATV accident injured six people in Cookeville. Although it is unclear exactly how the accident occurred, the accident appears to have involved only one vehicle. Six individuals were injured by the accident and subsequently transported by helicopter to a nearby hospital. When ATV accidents occur in Tennessee, accident victims frequently require the services of a skilled accident lawyer who knows how to fight for the compensation that injured individuals deserve. To better navigate an ATV case, it also helps for individuals in Nashville and the surrounding area to understand some of the basic facts about ATV accidents.
The Causes of Tennessee ATV Accidents
Many individuals fail to realize that there are a variety of ways that ATV accidents can be caused. Some of the most common ways that ATV accidents can occur include ATVs that are sold without proper guidelines or instructions, faulty repairs or inspections of ATVs, manufacturing defects in ATVs, and reckless driving or operation of ATVs.
Common Injuries Caused by ATV Accidents
There are a variety of injuries that can be caused by ATV accidents. In many cases, ATV riders are thrown off the vehicle and strike their heads, which can cause a variety of brain injuries including concussions, contusions, hemorrhages, and skull fractures. ATV riders can also be injured in a variety of other ways besides head injuries, including broken bones and internal organ damage. As a result of the many injuries that can be caused by ATV accidents, victims are often left with substantial medical bills.
Tips To Reduce ATV Accidents in Tennessee
While ATV accidents sometimes occur without any fault on the part of the vehicle's operator, there are some steps that ATV riders can take to reduce the risk of ATV accidents. ATV riders should always make sure to wear adequate clothing, which includes a helmet and eye protection. While operating ATVs, individuals must cautiously obey all posted signage and make sure to combine alcohol or drugs with vehicle operation. In addition, ATV riders should avoid paved roads and should only ride ATVs on designated trails. Individuals must also take great caution to make sure that children under the age of sixteen do not operate ATVs that are intended for adult use. Furthermore, individuals must make sure that ATVs that are designed for only one rider do not carry multiple passengers.
Ways That An Experienced Tennessee Accident Lawyer Can Help
If you have been hurt in an ATV accident, you can suddenly be faced with a variety of problems including substantial financial burdens and significant physical injuries. By retaining the services of Calhoun Law, PLC in Tennessee, you can make sure that you have a skilled Tennessee accident lawyer on your side who experience helping other in similar situations obtain favorable results.