Can You Sue a Grocery Store in Tennessee for a Slip and Fall Accident?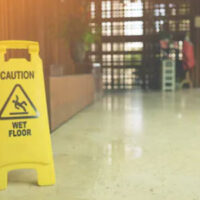 Tennessee's premises liability law requires owners of grocery stores – and other commercial properties, for that matter – to keep their premises free of any hazards. When a grocery store fails to keep its premises reasonably safe for shoppers and visitors, it can be held liable for the injured party's damages.
While slip and fall accidents can occur anywhere, grocery stores can be particularly dangerous due to various factors. Since slip and fall accidents can cause spinal cord injuries, traumatic brain injuries, and other severe injuries, it is vital to be represented by a Nashville premises liability attorney to obtain compensation.
Why Do Slip & Fall Accidents Occur in Grocery Stores?
While your local grocery store might not seem like a place where you are likely to get injured, there are a few hazards that put shoppers at a higher risk of injury, including:
Wet floors caused by spilled foods and drinks;
Slippery floor tiles;
Misplaced carts and baskets;
Faulty floor mats;
Damaged grocery carts;
Food items on high shelves; and
Poorly lit or designed parking lots.
If a grocery store was negligent in causing or failing to remedy any of these hazards and someone got injured, the injured party may have a valid premises liability claim if their attorney is able to prove any of the following three elements.
3 Elements of a Successful Premises Liability Claim Against a Grocery Store
An injured shopper or visitor can sue a grocery store if he or she can prove that:
The store or its employees created the hazardous condition that caused the visitor's injury; or
The store owner and/or its workers knew about the hazard but did not remedy it; or
The hazard existed for so long that the store owner or its employees should have learned about the condition to remedy it.
Proving any of these elements can be tricky. However, a knowledgeable Nashville slip and fall accident attorney can help collect the following types of evidence to support your claim against the grocery store:
Gain access to the store's surveillance cameras with the recording of the accident as well as footage to establish causation;
Review the store's accident reports about past injuries on the premises;
Request the store's maintenance, cleaning, and inspection records and procedures; and
Talk to bystanders who witnessed the accident and get their witness statements.
Surveillance camera footage is usually the most indisputable type of evidence to prove your claim against a grocery store in Tennessee. It can show not only how the accident occurred but also how much time passed between the moment the hazardous condition was created and the time of your accident.
However, if no footage exists, the testimony of other visitors, shoppers, or even employees can validate your claim. The same can be said about records that show the store's maintenance, cleaning, and inspection procedures.
Talk to a skilled Nashville premises liability attorney to find the appropriate evidence to support your claim against the grocery store. Contact Calhoun Law, PLC, to receive a consultation about your accident. Call at 615-375-4773.