Car Collisions and Pet Injuries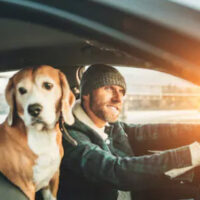 Humans are not the only ones that can be injured in car accidents, collisions also put beloved pets in harm's way. In Tennessee, pet ownership is widespread, and it's important for drivers to be aware of the potential risks. Knowing the dangers of pet injuries during car travel means animal lovers can take necessary precautions to keep their pets safe while on the road.
After a car crash resulting in a pet injury, you may want to learn more about how to have your veterinary bills covered. Talk to a Nashville personal injury lawyer about the details of your case and how to obtain a full and fair settlement offer.
Pet Restraints and Insurance Claims
Of course, it is better to avoid an accident injury entirely than go through the process of recovering from harm, this is true for humans and pets alike. Many find that utilizing appropriate pet restraints, such as harnesses, crates, or pet car seats, are great tools for preventing pets from roaming freely in the vehicle. These restaurants serve two purposes, they protect the animals in the event of a collision and they also reduce distractions for the driver.
If a collision involved pets, restrained animals or not, the type of insurance compensation that could be in reach will depend on the details of the policies. One or all of the following compensation options could be explored
Liability coverage. When a Tennessee driver is deemed at fault for the collision and has liability coverage, their coverage may extend to compensation for pet injuries as pets are legally considered property of their human owners, so pet harm expenses would typically fall under property damage coverage.
Medical payments coverage. Each insurance policy has its own specific details to assess, but some policies that include medical payment coverage could potentially cover veterinary expenses, regardless of fault. To explore the extent of the coverage, have a legal professional review the policy.
Pet insurance. If the owner of the pet has invested in pet insurance, certain pet insurance policies do cover injuries sustained during car accidents and other unexpected events. Reviewing the policy is the best way to determine the coverage available.
Whatever insurance coverage applies to your situation, documenting all expenses, including veterinary visits and other pet care fees, is essential to building a strong insurance claim.
Talk to a Lawyer Who Has Experience with Pet Injury Claims
If your pet has sustained significant injuries in a coalition, consult with a Nashville personal injury lawyer who has assisted past clients in securing damage recovery for pet injury expenses. A legal professional can guide you through the process and determine the best course of action.
Has one of your pets been injured in a Tennessee car collision? Seek legal advice from the attorneys at Calhoun Law, PLC. Our lawyers can help you navigate the complex insurance landscape following a collision. Working with a lawyer protects the rights and well-being of human car operators and their family pets. Contact us today and schedule a free consultation.