Construction-Related Fatalities on the Rise in Tennessee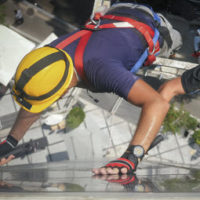 The U.S. Occupational Safety and Health Administration has reported that 87 construction-related fatalities occurred in the first quarter of 2018. In Tennessee, the statistics are just as alarming. Jobs in construction, maintenance, and natural resources are the most likely to lead to fatalities.
According to the Federal Bureau of Labor Statistics, workers in these areas have historically high fatality rates compared to other industries. So far this year alone in Tennessee, there have already been 10 construction-related deaths. The most recent year for which full year data is available is 2016, and 122 Tennessee workers died in that year with nearly half of those deaths coming from the construction industry.
What is Workers' Compensation? 
If a worker is injured on the job, they are entitled to file a claim for workers' compensation if the injury happened as a direct result of an accident or occupational exposure at work. This could include exposure to things such as toxins, repetitive stress, or chronic injuries. Workers' compensation is designed to help employees recover compensation from their employer because in most situations, an employer cannot be sued for an injury. There are certain exceptions to this rule and an experienced workers' compensation attorney can help you determine what options are available for your particular case.
What Employees Are Covered by Workers' Compensation? 
Employers who have five or more employees in the state of Tennessee are required to obtain workers' compensation insurance for their employees. Employers who are in the coal mining and construction business must have insurance regardless of how many employees they have. Workers' compensation covers most workers in the state, with a few exceptions. Tennessee excludes domestic workers, independent contractors, and some types of agricultural workers.
What Benefits Are Available Under Workers' Compensation? 
Once a claim for workers' compensation benefits has been accepted, the injured employee should be eligible to receive the following benefits:
Medical Treatment – A workers' compensation claim should cover all medical care including hospitalization, doctors' visits, physical therapy, prescriptions, and mileage to and from medical appointments if the employee travels more than 15 miles. An employer can require the injured employee to choose from a list of three approved physicians to receive their treatment.
Temporary Disability Benefits – Tennessee workers' compensation laws require compensation for reduced or lost wages if an injured employee isn't able to work. If the doctor determines that the employee is unable to work for more than one week, the injured employee will be eligible for temporary disability benefits. If an employee is able to work reduced hours or light duty, partial disability benefits may be received.
Permanent Disability Benefits – If the doctor treating the injured employee deems that the employee has a permanent disability, the employee may be eligible to receive full or partial permanent disability benefits based on how much work the employee will be able to do.
Contact a Workers' Compensation Attorney for Assistance 
Workers' compensation benefits and laws can be confusing and complex. Employers rarely like to pay these types of claims and may try to deny them. If you have been injured on the job, you should consult with a knowledgeable workers' compensation attorney to be sure that you receive the compensation that you are entitled to. The Tennessee attorneys at Calhoun Law, PLC have years of experience helping protect workers rights. Let us give you peace of mind that your rights are protected too. Contact us today to schedule a consultation.
Resource:
knoxnews.com/story/money/business/2018/07/13/construction-tops-tennessee-workplace-deaths-housing-boom-blame/778946002/