Cooler Temperatures May See an Increase in Slip and Fall Accidents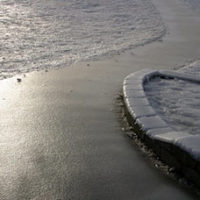 With Christmas quickly approaching, temperatures are rapidly changing too around much of the state. Some areas have already fallen below freezing and the National Weather Service is already predicting snow in some areas. With snow and freezing temperatures now settling in the area, another concern that should come into mind is slippery surfaces.
Over 20,000 Tennessee residents sustain injuries in slip and fall accidents each year, and 350 of them die due to those injuries. Although not all of these accidents are the result of icy or snowy surfaces, these conditions do play a role in a portion of the incidents. If you suffer injuries in a slip and fall accident while visiting property owned by someone else, you may be entitled to damages for your injuries. An experienced personal injury attorney can help advise you of your legal options.
Premises Liability in Tennessee 
Tennessee laws require property owners to keep their properties clear of hazardous areas and/or warn visitors about such hazards. If a visitor is injured on your property and you have failed to take steps to prevent the accident, that injured visitor may be entitled to seek damages for their injuries.
For a slip and fall claim to be successful, the injured person must also show that they exercised care while walking on the dangerous surface. It is possible that the defendant will try to show that they took the appropriate steps to keep you safe, and it was your own negligence that caused your injuries.
The state of Tennessee also has comparative fault laws that determine how much fault in the accident each party had. These percentages will be used to determine how much the owner of the property must pay in damages. If you are found to be more than 49 percent at fault, you will not be able to collect damages.
Statute of Limitations for Slip and Fall Accidents 
In most situations, Tennessee law allows you to file a claim against the negligent party within one year of the date of the accident. This makes it imperative that you contact an experienced Tennessee personal injury attorney as quickly as possible after your accident. Failing to file a claim within the specified amount of time could result in your loss of right to file such a claim.
Hire a Slip and Fall Attorney Today 
If you or your loved one has suffered injuries in a slip and fall accident in Tennessee, you may be entitled to damages for your injuries including medical bills, loss of income, pain and suffering, and more. Contact Calhoun Law, PLC so you can rest assured that your rights will be protected after your accident.
Resource:
tennessean.com/story/news/2018/11/09/nashville-weather-freeze-warning-wekend-snow-possible-tuesday/1940665002/