Deadly Accident on I-24 Product of Drunk Driving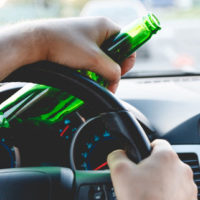 An intoxicated driver has been charged in deadly hit-and-run accident that occurred on Interstate 24 in Nashville. The driver's vehicle reportedly collided with another car that was then propelled into a guardrail on I-24 in Davidson County. The driver of the other car died as a result of the collision. The reckless driver then callously decided to flee the scene of the collision. Fortunately, he was pulled over and apprehended by officers on I-24 in Montgomery County.
The reckless driver, a resident of Clarksville, was charged with vehicular homicide by intoxication, vehicular assault and leaving the scene of a crash, according to U.S. News & World Report.
Unfortunately, deadly drunk driving accidents are quite common in Tennessee. In 2015, a reported 136 people were killed in automobile collisions involving an intoxicated driver, according to the Tennessean. Between 2003 and 2012, approximately 3,423 people were killed in accidents involving a drunk driver, according to the CDC.
Deepest sympathies go out to the friends and family of the victim. Losing someone you care about is never easy, but the pain and trauma associated with a sudden loss can be overwhelming. It can also be infuriating to learn that your loved one was taken from you due to the careless and irresponsible behavior of another driver. 
Taking Legal Action Against the Negligent Driver
The family of the young man who died in this terrible accident may be able to pursue some semblance of justice through a wrongful death claim. This is a claim filed against the reckless party that caused the untimely death and their auto insurance carrier. The types of damages that may be recovered through a wrongful death claim include:
Medical bills incurred as a result of the collision prior to your loved one's death;
Funeral expenses;
Burial expenses;
Loss of financial support provided by the decedent;
Pain and suffering
Loss of consortium and/or companionship (i.e. the loss of emotional support and guidance from the decedent)

Why Hiring a Lawyer Makes Sense
The sudden loss of a spouse, child, or other loved one is traumatic and overwhelming. In this difficult time, the thought of taking legal action against the reckless party that took your loved one's life may appear to be just too much to handle. This is perfectly understandable and why retaining the services of a Nashville wrongful death lawyer is appropriate. You should focus on healing and moving forward with your life. Let the lawyer handle the paperwork, investigating the accident, and filing a lawsuit (if necessary) in court. 
Contact a Lawyer Right Away
It is important that you take action sooner rather than later because, under Tenn. Code § 28-3-104(a)(1), a wrongful death lawsuit must be filed within one year from the date your loved one's passing. This means if you wait longer than one year, you could potentially have your case barred under the statute of limitations. 
Speak to a Nashville Wrongful Death Lawyer Today for a Free, Confidential Consultation
The legal team at Calhoun Law, PLC in Nashville is here to help you and your family during this difficult time. We have years of experience in pursuing of wrongful death claims against negligent drivers. Contact us today to schedule a free, confidential consultation.
Resources:
tennessean.com/story/news/local/2016/09/28/drugged-driving-overtakes-alcohol-tennessee-road-deaths/90755050/
cdc.gov/motorvehiclesafety/pdf/impaired_driving/drunk_driving_in_tn.pdf
usnews.com/news/best-states/tennessee/articles/2017-05-08/nashville-police-man-charged-in-hit-and-run-fatal-accident