Deer Related Accidents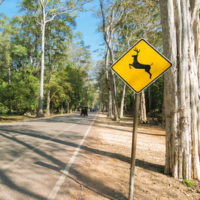 There are a number of ways in which animals can cause accidents in Tennessee. Recently, a deer jumped into the classroom window of a junior high school class. At the time that the accident occurred, there were about fifteen students gathered into the classroom where the window broke. Fortunately, school staff was able to safely evacuate everyone from the room, which resulted in four students receiving assistance from the school nurse for scrapes and bruises. The deer was fortunately also relatively uninjured, and sustained only a few minor scratches on its body. While there is no report of a previous incident occurring at the school involving a deer, animal occurrences are particularly common at the school due to the area's thickets, brushes, and pasture. Statistics indicate that deer are the most dangerous animal in the United States and cause approximately 1.2 million traffic accidents and over one billion dollars in motor vehicle damages each year.
Types of Motor Vehicle Accidents Involving Deer
There are two types of motor vehicle classifications when deer accidents occur:
Single Vehicle Accidents. A large number of deer-related accidents involve only one motor vehicle. In these cases, a motor vehicles either collides with the deer or the motor vehicle driver swerves to avoid striking the animal and creates an accident. In the event that motor vehicle strikes a deer, many car insurance companies will cover this type of damage under the driver's comprehensive coverage element of their policy. For motor vehicle operators who swerved and caused an accident after encounter a deer, the driver's collision coverage aspect of the driver's insurance policy will likely come into play.
Two or More Vehicle Accidents. While slightly less common than single vehicle accidents, these events can be much more dangerous. In many situations, these accidents involve the negligence of one or more drivers. For motor vehicle drivers who are involved in this type of accident, it is a wise idea to obtain the assistance of a talented lawyer.
Advice for Motor Vehicle Drivers Regarding Deer
There are several recommended steps that motor vehicle operators should take regarding deer, which include the following:
Avoid Distractions. Deer are often difficult for motorists to notice in time. This visibility can be made even less obvious by motor vehicle drivers that are distracted by various elements.
By slowing down and remaining cautious in areas where signs are posted, motor vehicle drivers can greatly reduce the risk of colliding with deer. Motor vehicle drivers can remember that deer travel in groups, which means that when a motor vehicle driver spots one deer there are likely other deer close behind.
Use High Beams. When driving a motor vehicle at night, drivers should remember to use a high beam when there are not other motor vehicles present on the road.
Wear a Seat Belt. The severity of a large number of deer accidents can be reduced if motor vehicle operators wear a seat belt.
Contact a Knowledgeable Lawyer
If you or a loved one is involved in a motor vehicle accident involving a deer, do not hesitate to contact an experienced lawyer at Calhoun Law, PLC. Our Nashville lawyers are eager to help you today.
Resources:
cuerorecord.com/articles/2017/01/18/deer-crashes-class-yorktown-junior-high-school
iii.org/issue-update/auto-crashes