Distracted Driving and Hands-Free Devices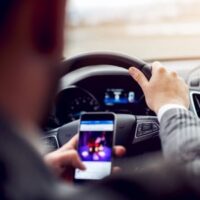 Technology is a regular part of daily life, but it is essential that drivers take note of the dangers of paying attention to devices. While it is true there have been technological advances to make devices more convenient, such as hands-free features, distracted driving is still possible.
Distracted driving is a leading cause of collisions. If you believe your Tennessee accident was a direct result of another interacting with a device, whether it was with a hands-free feature activated or not, talk to a Nashville personal injury lawyer about your compensation options. Seasoned attorneys are well versed in distracted driving dangers, even when the devices being used are hands-free, and know how financial relief can be accessed.
Safety Illusions and Cognitive Distraction
Hands-free devices, such as Bluetooth-enabled systems and voice assistants, are believed by many to be safer alternatives. After all, the device isn't being held so the driver has their hands free to access the wheel and other vehicular controls. A driver is also able to keep their eyes on the road while using these technologies. While these advantages do exist, it is crucial to recognize that studies have illustrated that hands-free activities affect a driver's attention.
Basically, distracted driving is broadly categorized into three types:
So while hands-free devices do eliminate some distracted driving risks, such as the manual distraction of physically holding a phone and the visual distraction of looking at the phone, they don't address the cognitive aspect. Engaging in a conversation, including on a hands-free call or with a voice assistant, diverts a driver's mental focus from the task of driving.
Because of the evidence of cognitive distraction, many states, including Tennessee, have implemented laws to prohibit or at least reduce the use of handheld devices while operating motor vehicles. Restrictions and regulations help, but some people ignore rules set for their own safety and the safety of others.
Educating Drivers of Multitasking Myths
Too many people believe they can multitask, without realizing that their focus on more than one thing is dangerous. For instance, some think they are able to efficiently talk to coworkers by phone or compose a text to family members about weekend plans while operating a vehicle. But the human brain is not designed to pay attention to multiple tasks at once, especially when one of the tasks is engaging in a complex activity like driving.
To protect your rights, seek legal advice after an accident involving a mobile device, hands-free or not. An experienced Nashville personal injury lawyer will navigate the legal complexities of your case, including gathering evidence and building a case to secure the compensation you need.
Do you want to hold an irresponsible hands-free device user accountable for your accident injuries? No call or text is worth compromising anyone's safety on Tennessee roadways. Discuss your financial recovery options with the attorneys at Calhoun Law, PLC. Experts are ready to advocate for you and help is just a phone call or email away. Reach out today for a free and confidential consultation.