Fender Benders And Personal Injury Claims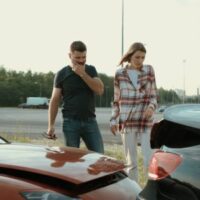 A fender bender is a term used to refer to a car accident that is minor, meaning it happened at a low speed and generally resulted in no injuries, or very minor ones, and a low level of vehicular damage. While fender benders are a common type of vehicular collision, they can still cause the involved parties stress and inconvenience.
If you are wondering if pursuing monetary compensation makes sense for you following a fender bender, seek the counsel of a Nashville personal injury lawyer. An attorney can review all the facts of your case and share with you what options make the most sense for your unique situation.
Minor Fender Bender Injuries
Of course, minor injuries are better than major ones, but that does not mean they are a cakewalk in themselves. Seeking medical care after an accident is important as small symptoms can be indicators of a larger issue. For example, damage to soft tissue and internal bleeding are serious health problems that can be slow to show.
Common injuries from fender benders:
Bruises, cuts and lacerations
Soft-tissue damage
Whiplash, including neck and back injuries
Fractures
Bleeding internally
People can be injured in low speed accidents in a variety of circumstances, such as roads that are slippery because of bad weather or a driver who was distracted by something happening inside of their vehicle.
After any collision, including fender benders, remain calm. There is no benefit to anyone yelling or hurling accusations. Instead, stay in control of your emotions. If another driver is confrontational, stay in your car or truck and keep your doors and windows shut. Call the police and inform them of the accident and of the other driver's threatening behavior. Ask to stay on the phone with the dispatcher until law enforcement arrives on the scene.
And even when emotions are calm, be careful what you say to others. Often it is best to say nothing at all than to apologize and admit fault. These admissions, even when they are said out of a desire to simply smooth things over rather than connected to the facts of the event, could be used against a driver later. An insurance adjuster could use an admission to suggest the recovery request is weak.
Exchange Data and Document
Best practices include exchanging information with other drivers and documenting the accident scene. Information you want to collect includes the name and insurance information of other drivers, license plate numbers, and the make, model, and year of the cars. Then, bring all the information you have to the attention of a Nashville personal injury lawyer to determine the value of your claim.
Are you hoping to secure a monetary settlement after a TN fender bender? Connect with the qualified personal injury lawyers at Calhoun Law, PLC about compensation options. Our Nashville attorneys will look over the facts of your case and give you an honest assessment of your claim's value. Calhoun law is committed to advocating for our clients, whether accident expenses are large or small. Reach out today for a free and confidential consultation.