Four-Car Accident in Downtown Nashville Leads to Death of Cab Driver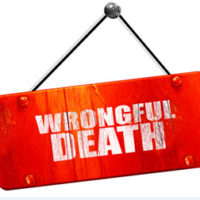 The driver of a NashVegas cab lost his life when the driver of a van slammed into the back of his vehicle in downtown Nashville. The tragic collision occurred at the intersection of Second Avenue South and Peabody Street. Reports indicate that the cab driver was traveling on Second Avenue and stopped at the traffic light when a Ford Econoline van crashed into his cab. The victim was 55 years of age, according to the Tennessean. 
Holding a Reckless Driver Accountable Through the Civil Justice System
Losing a family member in an accident is a traumatic and emotionally-devastating event. In a moment, your world may be turned upside down by the loss, especially if the victim was the primary income-earner in your household leaving you with the challenge of paying the mortgage and other expenses, all while grieving for your loved one.
The objective of a wrongful death claim is to help the survivors financially so they are not ruined financially by their loved one's sudden passing. A wrongful death claim also helps bring a sense of closure for the family, and hopefully a feeling that justice has been served by holding the defendant accountable for their reckless decisions.
When you file a wrongful death claim, you can pursue compensation for the following harms and losses:
Funeral and burial expenses
Medical expenses
Future income that would have been earned by your loved one
Pain, suffering and mental anguish
Punitive damages (depending on the specific facts of your case)

Who May File a Wrongful Death Claim in Nashville
The following individuals are legally able to file a wrongful death action in a Nashville civil court:
Surviving spouse
Executor of the decedent's will
Child of the decedent
Parent of the decedent
Any financial recovery from this action will be divided according to state law, as opposed to the Last Will and Testament of the decedent. So, for example, if the decedent was married, the surviving spouse would get all the settlement proceeds or jury verdict award.
If the decedent was married and had a child, or children, any settlement or verdict proceeds would be divided equally. Though, the surviving spouse will assuredly receive at least one third of the total amount recovered due to state law. 
Limited Time to Take Legal Action
Delaying to speak to an lawyer and filing a claim is not a wise decision. Why? Because the Tennessee statute of limitations is extremely short. A plaintiff must file a lawsuit in a civil court within one year from the date of your loved one's death. If you attempt to file suit after one year has passed, a court typically will not allow the case to go forward. 
Contact a Nashville Wrongful Death Lawyer Today
If you lost a loved one in a car accident, you are probably feeling overwhelmed and distraught. The Nashville wrongful death lawyers at Calhoun Law, PLC are here to help. We are ready and able to assist you in pursuing the financial restitution you are owed and to hold the reckless driver accountable for their careless actions. Contact us today for a free consultation.
Resource:
tennessean.com/story/news/2017/10/11/downtown-nashville-wreck-one-killed/755925001/