Gathering Witness Accounts After An Accident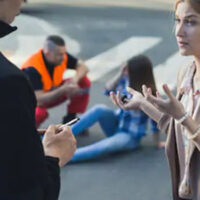 After a collision in Nashville or the surrounding area, there are a range of elements that may be necessary to build a strong personal injury case. Witness accounts, when they are available, can be a great way to establish your right to damages as the law often views third party statements as neutral assessments of a situation.
Witnesses who provide accounts in the immediate aftermath of a vehicular wreck can add important information to the accident record. But even if a witness account isn't immediately accessed, there could be a way to connect with witnesses at a later date. For instance, if there was a business open near the accident site, a Nashville personal injury lawyer may be able to discover a worker who witnessed the crash or review security footage that recorded the event.
Ask for Names and Contact Info
Sometimes, individuals who saw an injurious event occur will approach people at the accident site and offer their assistance. They may ask if anyone needs help and if they should call for medical assistance for injured individuals. At this point, they may even offer to provide a witness statement to law enforcement.
Documenting the names of witnesses and how to contact them should you need to use their accounts in the future is advised. Then, your lawyer can reach out to them later, if more information is required or if a signature is necessary for the witness account to be an official form of documentation.
Of course, for a witness statement about an event to be valuable, the witness must be credible and neutral. If the party is viewed as biased, the insurance company or legal team reviewing the account will view it suspiciously.
When an account may have credibility issues:
There is evidence that shows the witness was not paying attention at the time of the incident.
Conflicting stories have been supplied by the witness.
There is an outside interest for the witness, such as a financial reward, if the case is resolved in a certain way.
Witness has a history of false accounts.
If two witnesses provide accounts that contradict one another, experienced legal teams can pursue additional information to prove one account over the other.
Talk to a Nashville Attorney
Settlements through insurance companies often are high enough to cover accident expenses. If not, a personal injury lawsuit could follow. Taking steps to strengthen your claim in the beginning of the process can lead to faster, more favorable outcomes. Connect with a Nashville personal injury lawyer to learn more.
Do you know of individuals who witnessed your TN accident? Whether you have collected your own accounts or you simply know that a passerby or business owner saw the accident take place, bring your documentation to the attention of the qualified personal injury lawyers at Calhoun Law, PLC. With years of background in personal injury law, our Nashville attorneys will walk you through your compensation options. Calhoun law is committed to fighting for the rights of our clients. Reach out today for a free and confidential consultation.