How Is Fault Determined In A Nashville Multi-Vehicle Accident?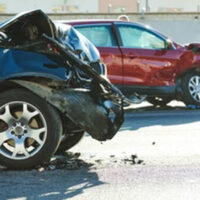 When two cars collide, determining who was at fault is usually a relatively easy process. However, things can get much more complicated when a car accident involves more than two vehicles.
If you have been involved in a multi-vehicle accident, also known as a pile-up or chain-reaction accident, it is advisable to contact an attorney right away. Determining liability in multi-vehicle accidents can be a daunting task if you do not have a lawyer on your side.
At Calhoun Law, PLC, we are committed to advocating for your rights and representing your best interests if you or your loved one has been injured in a multi-vehicle accident. Schedule a consultation with our Nashville car accident lawyer Colin B. Calhoun to determine liability in your specific case.
What Are the Common Causes of Multi-Vehicle Accidents?
While causes of multi-vehicle accidents vary from one collision to another, we often see the following factors contributing to chain-reaction collisions in Nashville:
Adverse weather conditions. Rain, sleet, fog, ice, snow, and other bad weather conditions can cause or contribute to a chain reaction accident. Such conditions as slippery and wet roads and poor visibility can result in multi-vehicle accidents, especially when the drivers fail to move at slower speeds.
Distracted driving. Being distracted while operating a motor vehicle can result in accidents between two cars and multi-vehicle accidents. However, proving that distracted driving was the cause of the chain-reaction accident can be extremely difficult, which is you need to seek legal counsel of a knowledgeable lawyer.
Failing to maintain a safe following distance. Many drivers leave just a few inches between their car and the vehicle in front of them in traffic jams. Doing so is very risky because you may not be able to react in time to avoid a collision if the front vehicle slams on the brakes. That's why following too closely often causes multi-vehicle accidents.
Speeding. Driving too fast for road or weather conditions can lead to a chain-reaction accident on heavily congested roads.
How to Determine Fault in a Multi-Vehicle Accident?
Determining fault in a chain-reaction accident is usually difficult. In fact, in many cases, it is necessary to hire accident reconstruction experts to determine whose fault caused a multi-vehicle accident. You need an experienced attorney to investigate your multi-vehicle accident and determine how it occurred.
Did the drivers maintain a safe following distance?
Did one driver fail to signal their intention to turn or change lanes?
Was anyone speeding?
Did anyone slam on the brakes?
Was anyone distracted or under the influence of alcohol/drugs?
These and many other questions need to be answered in order to determine fault in your multi-vehicle accident. Do keep in mind that Tennessee is a modified comparative negligence state, which means multiple drivers may be found at fault for the collision.
The negligent parties cannot recover maximum compensation because their damages award will be reduced according to their degree of fault. However, if a driver's degree of fault exceeds 50%, they will be barred from seeking any compensation after a multi-vehicle accident.
Consult with a Nashville Car Accident Attorney
Being injured in a chain-reaction accident is a stressful and confusing experience. That is why it is best to speak with an attorney to help you investigate your multi-vehicle accident, determine fault, and fight for the maximum compensation on your behalf. Our attorney Colin B. Calhoun can help. Call 615-375-4773.