How Other Vehicles Create Motorcycle Accident Risks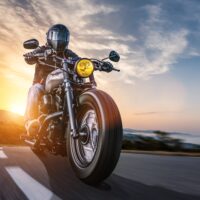 Motorcycles are a popular mode of transportation, especially when there is lovely Tennessee weather. While many enjoy the freedom of riding their motorcycles, either as a way to commute to work or as an activity with friends on days off, the reality is there are dangers to riding motorized bikes. Injury risks can be due to various factors, one of which is the presence of other vehicles on the road.
When another vehicle is responsible for the injury of a motorcycle operator or passenger, financial recovery for accident losses could be in reach. Discuss the specifics of your accident injury, including what bills and expenses you have incurred, with a Nashville personal injury lawyer.
Lane Changes, Turns, and Distracted Driving
Just as there are an array of reasons why cars and trucks are involved in traffic incidents, there are a lot of ways in which a vehicle can change a road environment and create dangers for motorcyclists.
Some of the common causes of motorcycle crashes include the following:
Lane changes. When drivers fail to check their blind spots or signal their intention to change lanes, they can collide with a motorcycle operator who is already occupying the space. Motorcycles are also more vulnerable to being pushed off the road or into other vehicles when a driver suddenly changes lanes without warning.
Left-turn collisions. Drivers who make a left turn across traffic may fail to see a motorcyclist who is traveling straight through the intersection. The impact of a left-turn collision can be severe, as motorcycles do not offer the same protection as cars.
Distracted driving. Not paying attention to the task of driving is a growing problem on the roadways, and it can be especially dangerous for motorcyclists. When drivers are texting, eating, or engaging in other distracting activities behind the wheel, they are less likely to notice a motorcyclist in their vicinity. This can increase the risk of collisions and serious injuries.
Of course, there are situations where the driving behaviors of the motorcycle operator contributes to a crash as well. When a motorcyclist is speeding, driving erratically, or cutting off a vehicle accident risks are elevated.
Road Risks and Loss of Control
Accidents can also be the result of conditions beyond the control of vehicle drivers and motorcycle operators as well. If there is construction debris or pavement is wet, everyone on Tennessee roads and highways needs to be particularly aware, alert, and cautious.
To determine liability after a motorcycle accident, connect with a Nashville personal injury lawyer. Then next steps can be taken to hold responsible parties financially accountable.
Could you use some legal guidance after a Tennessee motorcycle injury? Whether you were injured as a passenger on a motorcycle or you were operating the bike at the time of the crash, the skilled Nashville personal injury lawyers at Calhoun Law, PLC can guide you through the claims process. Compensation for medical expenses and wage loss could be possible. Contact us today and schedule a free consultation.