How to Seek Compensation for Your Construction Accident Injury in Tennessee?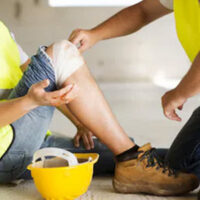 Each day, dozens of construction workers are injured on the job across the United States. The construction industry is arguably the most dangerous industry in which workers are more susceptible to injury.
As a law firm with experience in handling workers' compensation claims and third-party construction accident claims in Tennessee, Calhoun Law, PLC, can assist you in pursuing the compensation you deserve.
Why Do Construction Accidents Occur?
Unfortunately, construction workers are at a higher risk for on-the-job injury when their employers fail to:
keep the workplace free of hazards;
maintain safety equipment in good condition; and
properly train and supervise their employees.
A large percentage of construction accidents involving falls, electrocutions, falling equipment, wall collapses, and others are preventable through compliance with proper procedures and regulations.
Potentially Liable Parties in Construction Site Accidents in Tennessee
The dangers of construction site accidents were evident in a recent incident in Nashville, Tennessee. A construction worker died after a wall collapsed at a construction site. The deadly incident occurred on West End Avenue when the worker was attempting to remove silicone sealant on an exterior wall, according to WKRN.
There may be several potentially liable parties in a construction accident in Tennessee. Depending on the facts surrounding your construction site accident, the following parties may be held accountable for your injury:
Your employer
The construction company
The manufacturer of construction tools or equipment
The owner of the property
Third-party contractors
Individuals or entities not associated with the employer or construction company
Workers' Compensation Benefits in a Construction Accident
Typically, construction workers who sustain workplace injuries on a construction site are eligible for workers' compensation benefits. The workers' comp system in Tennessee limits the employer's liability in accidents involving their employees. In other words, workers' compensation insurance makes it difficult for injured workers to sue their employers for on-the-job injuries.
However, in certain cases, a construction worker can pursue a third-party construction accident claim in addition to or in lieu of a workers' compensation claim. Typically, there are multiple entities and companies working on a construction project, which means you could sue multiple parties for your construction site injury in Tennessee.
Filing a Third-Party Construction Accident Claim in Tennessee
In the context of construction accident claims, a third party refers to an individual or entity other than your employer or co-worker. For example, if your construction site accident was caused by a defective construction tool, you might be able to pursue a third-party claim against the manufacturer of the defective equipment.
Since Tennessee's workers' compensation system bars lawsuits filed against your employer, there is nothing holding you back from suing a third party that caused or contributed to your on-the-job injury on a construction site.
Depending on the circumstances surrounding your construction site accident, you may be able to pursue a personal injury claim against a third-party individual or entity to seek compensation for your injury. The lawsuit could complement your workers' compensation claim. One of the benefits of filing a third-party personal injury claim against the liable party is that you can recover pain and suffering and other damages that are not available through workers' comp insurance.
Schedule a consultation with our Nashville workers' compensation attorney at Calhoun Law, PLC, to help you seek compensation for your construction accident injury. Call at 615-375-4773 to get a case review.
Resource:
wkrn.com/news/local-news/1-critically-injured-after-industrial-accident-on-west-end/