Hurt in a Bicycle Accident – Understanding Your Rights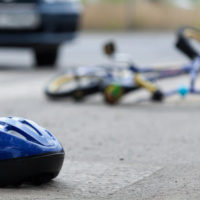 May is bicycle safety month. There needs to be an emphasis on drivers exercising the necessary precautions when they encounter someone on a bicycle on a road or street in Nashville. In 2014, bicycles were associated with more injuries over all age groups than skateboards, trampolines, swimming pools and playground equipment combined, according to the National Safety Council. Across the United States, over half a million people were treated for injuries related to car versus bicycle accidents in 2014.

Common Injuries from Serious Bicycle Accidents
When someone riding a bicycle is hit by a car, pickup truck, or SUV, they usually bear the brunt of the damage. This is because people on bicycles are exposed to blunt force of a collision and lack the built-in protections associated with a motor vehicle (e.g., air bags). Injuries bicyclists may suffer include:
Traumatic brain injury
Paralysis
Broken femur
Broken hip
Nerve damage
Head wound
Lost limbs
Facial lacerations
Death
If you or a loved one was seriously injured in a bicycle accident, you should speak to an experienced Nashville personal injury lawyer to discuss your legal options. If the driver who hit you or your loved one was operating their vehicle in a reckless or careless fashion, they can be held liable for your harms and losses.

Pursuing Financial Restitution through a Personal Injury Claim
If you were hit by a negligent driver, you probably have the basis to pursue a personal injury claim against the driver's auto insurance policy. Your harms and losses are often called "damages" and include:
Incurred medical bills as a result of the accident
Future medical bills as a result of the accident
Lost wages due to missing work
Future wages, if the injury prevents you from returning to your chosen profession
Pain and suffering
If you attempt to file a personal injury claim on your own, expect a fight. Auto insurance companies routinely take advantage of clients who opt not to retain counsel by delaying the process and making lowball settlement offers. This is why it makes sense to talk to an experienced Nashville bicycle accident injury lawyer. They can take some of the burden off your shoulders by negotiating on your behalf so you can focus on getting back to 100 percent. A lawyer can also help investigate the accident to provide clarity on the issues of liability and damages. This includes obtaining a copy of the accident report, collecting any accident scene photographs and other relevant physical evidence, speaking to eyewitnesses, sending the necessary paperwork to the auto insurance adjuster, and filing a personal injury lawsuit, if necessary. Many bicycle injury cases wind up settling without having to go to trial, but settlement is not guaranteed and you need to have a lawyer on your side who will be ready and able to take your case to trial.

Speak to a Nashville Personal Injury Lawyer Today
The legal team at Calhoun Law, PLC is ready to help you and your loved ones. We have years of experience in pursuing personal injury claims against negligent drivers who have hurt bicyclists in and around Nashville. Contact us today to schedule a free consultation.
Resources:
issuu.com/bikeleague/docs/nbm_guide_2015_web
nsc.org/learn/safety-knowledge/Pages/news-and-resources-safe-bicycling.aspx