Insurance Claims Often Follow Construction Site Injuries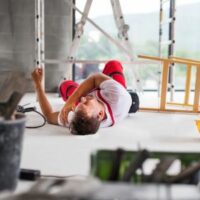 Individuals who work on Tennessee construction sites manage job hazards every day. It is essential contractors, developers, and crews take safety seriously. But even with safety plans in place, injuries due occur. There have been accident injuries to construction workers and to members of the public passing by construction sites.
Compensation is possible if you or someone you care about was injured at a construction site. What type of insurance claim will need to be filed will depend on the details of the accident. There are Tennessee laws and building codes in place to protect workers and the public. To determine if you should file a premises liability claim, a workers' compensation claim or both in the aftermath of a construction site injury, connect with a Nashville personal injury lawyer.
Members of the Public, Employees, and Independent Contractors
What type of claim you should file depends on your relationship to the construction site and how the accident occurred. Members of the public could argue a company behaved recklessly and employees working on the site may be able to access workers' compensation funds. Independent contractors are treated differently than an employee in the event of an employment injury as well.
A range of injuries are possible, including the following:
Extreme conditions, such as excessively hot or cold temperatures, could result in heat stroke or frostbite.
When chemicals are not contained properly or wires are exposed, burn injuries are possible.
Because construction sites have large, heavy machinery, injuries such as broken bones could occur if staff is not properly trained or equipment isn't secured correctly.
Head trauma. Falling objects, trips, and slips can result in a person sustaining an injury to their head, neck, and back.
Before agreeing to any settlement terms, be sure you understand your rights. An experienced attorney can walk you through your options and inform you on what type of claim would be best given the details of your construction accident injury.
Slow to Show Construction Site Injuries
Sometimes, in the moments after an accident, a surge of adrenaline masks injury symptoms. But even injuries that are slow to show are eligible for compensation when another was negligent. Have your health assessed as soon as possible, then there will be a record connecting your injury to the accident should you need to move forward with a personal injury claim.
Current medical bills and future expenses need to be addressed when you are injured because of another's reckless behavior on a Tennessee construction site. Talk to a Nashville personal injury lawyer  to learn more.
Are you recovering from a Nashville construction site injury? The property owner or contractor could be liable. If you have bills connected to medical care and lost wages, talk through your case with the experienced Nashville personal injury lawyers at Calhoun Law, PLC. Our attorneys understand how much a claim is worth and will fight for a full and fair amount so you can move forward with your life. Contact us today for a free and confidential consultation of your case, no fees are required upfront.