Jury Trials and Defective Product Lawsuits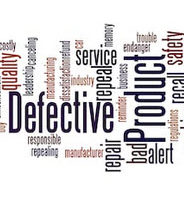 It is never pleasant to purchase a product only to find that it does not work as intended. This frustration is compounded when the product causes you injury or property damage. In this situation, a personal injury product liability case may be filed in order to help you to pay for the expenses related to these injuries and damages.
Proving that a product is defective can be difficult. You must clearly show that the product was unsafe to use and that you did not alter the product or use it in any unintended manner. This could be the result of a design or manufacturing issue, but it could also result from a lack of clear or adequate warning labels or literature. Regardless of the reason, you can file suit in order to recover compensation for your injuries and damages.
Options for Recovering Damages 
Once you file suit, you are likely to receive an offer to settle from the defense. The amount of the settlement will be less than what you are seeking in the lawsuit, but could save you the expense of pursuing a jury trial. Your attorney will be able to help you negotiate with the defense in order to arrive at the largest settlement possible, and can also advise you as to whether or not the settlement is fair or if you should instead pursue a trial.
Jury Trials for Defective Products 
Taking your case to a jury trial is always a risk. You cannot predict how the jury will view the case or what they will decide. However, if the jury decides in your favor, it is possible that they will award you more than the defendant has offered as a settlement. In some situations, the jury may empathize with your experience, helping you to increase the amount of your damages. This means that a jury trial can make the difference between little to no compensation or receiving full damages.
On the other hand, the defense is likely to argue that you, as the consumer, are responsible for your injuries and damages. This responsibility on your part could take the form of:
Knowledge of the defect prior to using the product
Using the product in a way not intended by the manufacturer
Continued use of the product after recognizing the danger
Altering the product in such a way as to make it dangerous to use
If the defense creates doubt in the mind of jurors, your compensation could be at risk. You and your attorney should be prepared to clearly show that you were not responsible to any degree for your injuries. Your attorney will be able to advise you about your case and its potential benefits and risks in front of a jury.
Contact an Attorney 
If you've been injured by a defective product, contact the Nashville personal injury attorneys at Calhoun Law, PLC,  immediately. We can help ensure the best possible result in your case, whether or not you choose to go to a jury trial.
Resource:
advance.lexis.com/documentpage/?pdmfid=1000516&crid=64ff3e05-2cd7-4f3e-be69-e7776d93a6c0&nodeid=ABDABDAAF&nodepath=%2FROOT%2FABD%2FABDABD%2FABDABDAAF&level=3&haschildren=&populated=false&title=29-28-105.+Determination+of+defective+or+dangerous+condition.&config=025054JABlOTJjNmIyNi0wYjI0LTRjZGEtYWE5ZC0zNGFhOWNhMjFlNDgKAFBvZENhdGFsb2cDFQ14bX2GfyBTaI9WcPX5&pddocfullpath=%2Fshared%2Fdocument%2Fstatutes-legislation%2Furn%3AcontentItem%3A4X8J-71F0-R03N-S3NW-00008-00&ecomp=k5v8kkk&prid=71cbbcb9-d299-4452-a8a7-29e181182cc9
https://www.calhounlawtn.com/tennessee-drivers-still-vulnerable-in-airbag-recall/