Liability in Skydiving Accidents in Nashville, Tennessee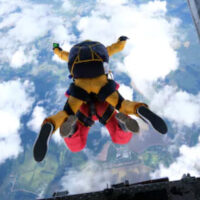 It is true that skydiving fatalities are very rare, and yet the risk of injury can be quite high, especially if the skydiver is not experienced enough or their equipment is faulty. Skydivers and paragliders are exposed to the risk of spinal cord injury and other severe injuries.
When a skydiving accident occurs, and the skydiver suffers a personal injury, the instructor, skydiving company and/or its workers, equipment manufacturers, and other parties may be held liable for the resulting damages.
A recent skydiving accident in Titusville, Tennessee, reminded of the dangers of skydiving and, in particular, the dangers of faulty and defective parachutes. As reported by WESH, a video surfaced, showing two skydivers falling to the ground after their parachutes malfunctioned during a tandem jump.
The skydivers – an instructor and a student – landed in someone's front yard. Moments before the impact, the skydivers are seen helplessly swinging their arms in the air, more than 18,000 feet over the city. The skydivers were harnessed together. Luckily, the skydivers first hit a camphor tree and then landed on the grass, which may have saved their lives.
Causes of Skydiving Accidents in Tennessee
Parachute malfunction is a common cause of skydiving accidents, but there are also other causes. While the skydiver's lack of experience increases the risk of a skydiving accident, even the most experienced and skilled skydivers can get injured when performing a jump or landing.
Injuries in skydiving accidents can be caused by:
Parachute malfunction
Equipment defects
Faulty cords
Harness failure
Faulty steering handles
Improper packing or repacking of parachutes
Inadequate training, instruction, or supervision
Incorrect pre-flight safety checks
Pilot error
Improper landing
Negligence and Liability in Skydiving Accidents in Tennessee
Skydiving companies usually require jumpers to sign a waiver of liability before taking the jump. What the liability waiver means is that the skydiver would be barred from suing the company if they sustain an injury.
However, with a skilled Nashville personal injury attorney by your side, you may be able to seek compensation even if you signed the waiver. Also, keep in mind that the waiver only protects the skydiving company. The manufacturer of the defective parachute or faulty safety equipment and other parties can still be sued regardless of whether you signed the liability waiver or not.
In addition, no liability waiver can protect a skydiving company if the accident was caused by gross negligence. If there was no waiver, you could pursue a personal injury or wrongful death claim against the skydiving company or any other at-fault party if you can prove negligence or carelessness.
You are required to prove that another reasonably prudent person would not have acted in the same manner, and thus your injury sustained during the skydiving accident could have been prevented.
It is best to contact a Nashville personal injury attorney to investigate your skydiving accident and determine whether you have a valid claim to obtain compensation. Speak with our lawyer at Calhoun Law, PLC, for a case review. Call at 615-375-4773 to discuss your situation.
Resource:
wesh.com/article/businesses-rebuild-support-protests-in-wake-of-george-floyd-s-death/32783608
https://www.calhounlawtn.com/can-you-file-a-coronavirus-personal-injury-lawsuit-for-transmitting-the-disease/