Motorcycle Accident Injuries in Nashville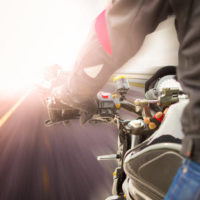 When a motorcyclist is involved in a collision with another vehicle, the ramifications can be quite serious for the operator of the motor bike. Take, for example, the awful collision that occurred at the intersection of Old Hickory Boulevard and Burning Tree Drive. The operator of a 2004 Yamaha was traveling north on Old Hickory Boulevard when the driver of 2001 Mercedes SUV suddenly turned left from Burning Tree Drive causing a collision with the motorcyclist. The motorcyclist wound up hitting the driver side of the Mercedes and died at the scene of the crash.
He was only 24 years old. Investigators have stated that it appears the driver of the Mercedes failed to yield to the motorcyclist, according to WKRN.com.
Unfortunately, serious motorcycle accidents are quite common in and around Tennessee. For example, the number of motorcyclists who lost their lives spiked between 2011 and 2012, according to the Tennessee Department of Safety and Homeland Security. Another spike occurred from 2015 to 2016 where motorcycle accident deaths increased by nearly 25 percent. 
Causes of Serious Collisions Between Motorcycles and Other Automobiles
Accidents involving a motorcyclist and other automobiles like sedans, SUVs, pickup trucks, etc. are caused by a variety of different reasons. Though, in many instances, the root of the cause is found to be a negligent motorist who winds up colliding with a motorcyclist. Some of the most common causes of these types of accidents include:
Distracted driving
Texting and driving
Intoxicated driver
Driver fails to yield at an intersection
Driver fails to stop at a stop sign or street light

Common Injuries Suffered by Motorcyclists
Motorcyclists do not enjoy the benefits of a seatbelt and an airbag like other automobile operators do. As a result, when a collision occurs, the motorcyclist often absorbs a tremendous amount of the impact and is left badly injured. In fact, it is common for a motorcyclist to suffer one or more of the following types of Injuries in an accident:
Traumatic brain injury or open head wound
Spinal cord injury
Fractured bones
Torn ligaments
Internal bleeding
Disfigurement

Damages Extend Beyond the Body
As you can see, a motorcycle accident can leave you injured physically, but a serious accident can cause harm far beyond the body. It can create emotional distress and anxiety due to concern over paying for massive medical bills and the inability to earn an income if you are forced to miss a significant amount of time from work or are left partially or fully disabled after the collision. This is why you should hire an experienced Nashville motorcycle accident lawyer. They can file a personal injury claim on your behalf to obtain compensation for your medical expenses, lost wages, and pain and suffering. 
Contact a Nashville Motorcycle Accident Lawyer Today
The Nashville motorcycle accident lawyers at Calhoun Law, PLC are ready to help you through this stressful and difficult time. We have years of experience handling these types of cases and will work tirelessly to get the compensation you are owed. Contact us today for a free consultation.
Resources:
wkrn.com/2017/12/12/1-critically-injured-in-motorcycle-crash-in-hermitage/
tn.gov/safety.html