Pedestrian Accidents In Tennessee Involving Crosswalks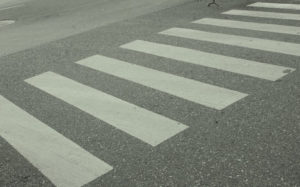 Recently, a woman was walking in the crosswalk returning from a store back to her home in Nashville when she was struck by a passing vehicle. Although emergency services rushed the woman to a nearby hospital, the woman later passed away from these injuries. Some individuals are citing this recent event as proof that the state of Tennessee needs more crosswalks and bike lanes in addition to more adequate lightning to prevent these types of accidents from occurring. At the very least, this event serves as a strong reminder of the dangers presented by many crosswalks.
Rights of Pedestrians
In many situations, it can be difficult to determine which party is at fault when a car strikes a pedestrian. There are, however, several general laws that apply to these types of situations. A pedestrian often has the right of way when walking inside of a crosswalk, but motor vehicles have the right of way outside of crosswalks. This general rule does not mean that whoever has the right of way automatically is not liable for the accident. There is a presumption, however, that a collision is the fault of the individual who did not have the right of way. Individuals should understand the various duties that are assigned to drivers and pedestrians in Tennessee.
Driver Duties. At a crosswalk, pedestrians have the right of way, which means that drivers must yield to pedestrians who are crossing the road in a crosswalk if the pedestrian is on the same side of the road as the driver. If a pedestrian is walking across a crosswalk in a school zone, drivers must yield to a pedestrian wherever the pedestrian is located in the crosswalk. When a vehicle is stopped at a crosswalk or unmarked crosswalk at an intersection, other drivers are not allowed to pass the stopped vehicle. When a pedestrian using a guide dog or cane is attempting to cross a street, motor vehicle drivers must come to a complete stop and take all necessary precautions regarding the pedestrian.
Pedestrian Duties. Pedestrian must follow all traffic control signals. Also, pedestrians are strictly prohibited from crossing a road in an area that is not the crosswalk. When sidewalks are available, pedestrians must use these areas to walk. In the event that no sidewalk is available, pedestrians should walk on the left side of the road facing towards traffic.
Penalties
Pedestrians and motor vehicle drivers who violate applicable laws can end up facing significant fines and even time in jail for the most serious offenses. Individuals who have prior records of such activity are likely to be assigned even more significant penalties.
Contact An Experienced Accident Lawyer
If you were in a pedestrian accident involving a motor vehicle, you likely have questions about which parties are reasonable and whether you should bring a personal injury claim. One of the first steps to take in responding to such a tragic incident is to contact an experienced Tennessee accident lawyer at Calhoun Law PLC, who has helped many other pedestrians who have been involved in similar situations.
Resource:
wkrn.com/2016/08/21/woman-seriously-injured-after-being-struck-by-car-in-south-nashville/