Pedestrian Killed at Crossing Road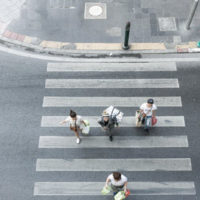 An elderly pedestrian was struck and killed while crossing the road to enter his vehicle. The driver stated that he did not see the man, and reports note that it was raining at the time, which may have impacted visibility. No charges have been filed, and there is no mention of whether or not a crosswalk was present at the scene.
Rules of the Road
Many people have the misconception that a pedestrian always has the right-of-way, since they are the most vulnerable road users, but that is not necessarily true. While pedestrians do have the right of way at marked crosswalks, they must yield to vehicles if attempting to cross anywhere other than a marked crosswalk. This is true even if there is no marked crosswalk available. Additionally, pedestrians are barred from crossing in an unmarked area if there is a crosswalk available at the nearest intersections.
Preventing accidents is as simple as following the rules of the road, including remaining alert to pedestrian and vehicle traffic. However, it can be difficult to predict the movements of others, particularly when they do not follow the rules of the road, such as when a driver fails to utilize a turn signal or a pedestrian crosses against a red light. In those unfortunate circumstances when accidents do occur, you may require compensation to help you pay for the results of the accident.
Accident Costs
After an accident, your primary concern will be getting back on your feet. This will include finding a way to cover the numerous financial obligations caused by the crash, including:
Medical bills
Repair or replacement of damaged property
Lost wages
Pain and suffering
Under Tennessee law, you can recover payment for these expenses, called damages, in a court case. However, you can only recover damages when you are found to be 49 percent or less at fault for the accident and the other party is at least 50 percent at fault. When a vehicle collides with a pedestrian, fault is determined based on how or if each individual involved was following the rules of the road. Even if a pedestrian is crossing in an unmarked area, the driver of the vehicle will still be expected to be alert to road conditions and attempt to avoid the pedestrian. Failure to do so will factor into the fault calculations, which impact compensation.
Due to the use of fault to determine compensation, it is very important to bring evidence of your compliance with the rules of the road to your attorney. Your evidence can include your written account of the accident, photos of the accident scene showing whether or not there was a crosswalk, and any witness accounts or police reports available to you.
Contact an Attorney
If you've been involved in a vehicle and pedestrian accident, contact an attorney right away. The Nashville bicycle and pedestrian accident attorneys at Calhoun Law, PLC,  can help you to recover the damages you need to move ahead with your life. Be certain to bring any evidence you have to your first meeting to get your case started quickly.
Resource:
tennessean.com/story/news/2019/04/16/pedestrian-ernest-reeves-struck-minivan-nashville-dies/3482253002/