Personal Injury Claims And TN Medicare Recipients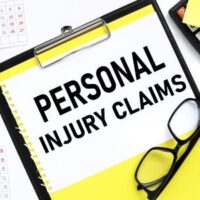 If you're a Tennessee resident who is eligible for Medicare and has suffered a personal injury, you may be wondering what paths are available to you when it comes to financial recovery. Because while your insurance coverage may cover some of the costs associated with your injury, it may not be enough to cover all of your expenses.
There are ways to secure financial recovery, beyond Medicare coverage, and a Nashville personal injury lawyer can help you navigate the process.
Accessing Financial Recovery Beyond Insurance
When a person is harmed due to someone else's negligence, they often decide to pursue a personal injury claim. What a personal injury claim does is allow you to seek compensation for injury damages. What losses will be eligible for recovery depend on the situation, but common forms of damages include medical expenses, lost wages, and pain and suffering.
In the state of Tennessee, injured parties generally have one year from the date of the accident to file a personal injury claim. When you talk to an attorney, they can advise you on the optimal path to recovery damages, either through an insurance settlement or further legal action.
Negotiating a settlement with the at-fault party's insurance company is often the quicker and less stressful option as filing a lawsuit can be time intensive. A lawyer can negotiate with insurance companies on your behalf and ensure that you receive a fair settlement.
But sometimes filing a lawsuit is necessary, particularly if the damages are high. While the process can be complicated and time-consuming, payouts are generally larger than what insurance would cover.
Determining If You Are Eligible for Medicare
Understanding all of your insurance options is important, and time and care should be taken to review policies before you need to use them.
Medicare is a federal health insurance program that primarily serves older adults, those who are 65 or older. Beyond older adults, the program also covers individuals who have certain disabilities or medical conditions. You are eligible for Medicare if the following criteria apply:
You are a U.S. citizen or permanent legal resident who has lived in the country for at least five years and are 65 years old or older.
Even though you are under 65 years of age, you have been receiving Social Security Disability Insurance (SSDI) for at least 24 months.
You have specific health concerns, such as End-Stage Renal Disease (ESRD) or Amyotrophic Lateral Sclerosis (ALS).
If one or more of these criteria apply to you and you are a Medicare recipient who has suffered a personal injury, discuss further compensation options with a Nashville personal injury lawyer. An attorney can help you determine whether a claim is appropriate given the details of your situation.
Is it time for you to talk to a legal professional about your Medicare coverage and personal injury expenses? A lawyer can help you navigate the legal system and ensure that you receive the compensation you deserve while also protecting your eligibility for Medicare benefits. Calhoun Law, PLC will advocate for you, whatever form of health insurance coverage you do or do not have. Reach out today for a free and confidential consultation.