Recovering Damages After a Bicycle Accident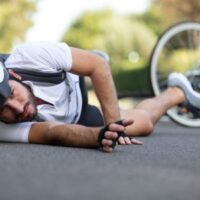 An environmentally friendly mode of transportation, biking offers many Tennesseans a sense of freedom while they commute to work or turn to their bikes as a form of exercise. While bicycling is an enjoyable way for individuals to reduce emissions and save money that would be spent on gas and vehicle maintenance, it also comes with its own set of risks. This is especially true when bicycles are sharing the road with motor vehicles.
Bicycle accidents can result in physical harm and emotional trauma. If you are focused on your own personal recovery after a bike accident, you may turn to a legal professional to handle the financial burdens. A Nashville personal injury lawyer can help you understand the process of recovering damages and will fight for a maximum settlement amount.
Exchange Information and Document Your Damages
Should you be involved in a bicycle accident and a motor vehicle was part of the collision, be sure to report the incident to local law enforcement. Once you call the police, they will be able to come to the scene and outline key details, including the date, time, weather conditions, statements from parties involved, and any witness accounts. If you find yourself talking with an insurance adjuster or choosing to pursue legal action at a later date, this police report will be a valuable piece of evidence.
Additionally, you and others involved in the accident need to share information with one another, such as your names, phone numbers, and insurance information. It can also be helpful for you to jot down other identifying bits as well, such as the make and model of vehicles and license plate numbers.
Then, as you move to recover from the event, be sure to keep track of all of your accident-related expenses and losses, from cost of replacing a bicycle to income you lost because you missed shifts at your job as a result of the crash.
Communicate Carefully with Insurance Companies
Once insurance companies are involved in the process, you will want to approach communications with care, because even if you have an attentive insurance adjuster who is committed to settling your claim efficiently, they also have a company goal to minimize payouts. Communicate carefully, and if you are nervous about what to say simply having a lawyer to handle these communications for you. A Nashville personal injury lawyer will work to ensure you're treated fairly.
The physical, emotional, and financial effects of accidents involving vehicles and bicycles can add up to more than a person feels comfortable handling, but with proper documentation, legal guidance, and perseverance, you can secure a full compensation amount and use those funds to support your recovery.
Is a driver to blame for your bike injury? When you connect with the lawyers at Calhoun Law, PLC they will begin the process of securing a settlement to cover your medical expenses, property damage, lost income, and emotional distress. If a situation arises where a fair settlement cannot be reached through negotiation, your attorney will represent your interests in court. Reach out today for a free and confidential consultation.