Replace Child Car Seats After Accidents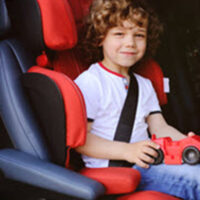 When a car accident occurs, one of the most critical safety measures for children is their child safety seat. While most parents understand the importance of ensuring their child is properly secured in a car seat, they may not be unaware that the car seat will need to be replaced after a vehicular collision.
It is essential to replace child car seats after accidents in order to keep everyone safe should another car crash occur. If you are concerned about the expense of purchasing a new safety seat, ask a Nashville personal injury lawyer if the cost of replacement seats can be included in your final compensation award.
Why It's Essential to Replace Child Car Seats After Accidents
Car seats are designed to withstand the force of a car accident, but this does not mean that a child car seat safety is created to sustain force after force.. Even if the car seat appears to be undamaged, it is possible that it may not function correctly should there be another collision.
The National Highway Traffic Safety Administration (NHTSA) recommends car seat replacement after any moderate or severe accident. This means child car seats should definitely be replaced if any of the following are true.
The vehicle was not drivable after the accident
Door nearest the child car seat was damaged in the course of the collision
Injuries were sustained in the crash
Airbags were deployed
Often it is best to simply replace the seat rather than try to assess if the force was enough to damage the child car seat. After all, even in minor collisions there may be damage that is not visible to the naked eye.
Disposing of Child Car Seats
Once you make the decision to replace your child's car seat after a Tennessee traffic accident, you will need to dispose of it properly. After all, you don't want another family using a seat that may be defective.
To make sure the seat is safely disposed of, check with your local government to see if there are guidelines for child car seat disposal. Another option is to take it to a recycling center that is familiar with disposing of car seats. On your own, you can also cut straps or padding to ensure it is not used again as well.
It is possible to secure the cost of a replacement car seat within a personal recovery settlement. Share a list of all your accident expenses, including costs for replacing safety items, with a Nashville personal injury lawyer so the true value of your claim can be determined.
Did you buy a new child car seat after a TN collision? Connect with skilled Nashville personal injury lawyers who will fight for a maximum settlement amount and be sure all of your expenses are covered. For example, you may be able to include the cost of a child car seat within your claim. Talk to the injury lawyers at Calhoun Law, PLC to learn more. Reach out today for a free and confidential consultation.