Risks of Unbalanced Cargo in Commercial Trucks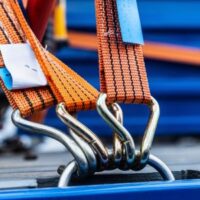 When it comes to the safe operation of commercial trucks, cargo loading and distribution play a pivotal role, because when a truck has been loaded improperly or there is unbalanced cargo it can lead to serious accidents on Tennessee roadways.
There are legal implications for Nashville injury cases involving unbalanced cargo in commercial trucks. Discuss your specific situation with a Nashville personal injury lawyer to determine how to secure a resolution that addresses your needs.
Loss of Stability and Decreased Performance
Unbalanced cargo in commercial trucks can lead to a loss of stability, and because trucks are already prone to tipping over due to their high center of gravity, cargo that is not distributed evenly exacerbates this risk. An unbalanced load can make the truck top-heavy, for instance, leading to rollovers, especially when the driver takes a turn or maneuvers quickly.
Maintaining proper braking performance also relies on a balanced cargo area as an uneven load can affect the truck's ability to stop or slow down efficiently. For example, if the front wheels have too little weight on them, it can reduce the effectiveness of the brakes, increasing the risk of rear-end collisions and other accidents.
Additionally, steering difficulties are possible. A truck operator may struggle to keep the vehicle in their lane when there is an imbalance, leading to swerving, drifting, or even veering into oncoming traffic.
Legal Implications and Determining Liability
In unbalanced cargo accident cases, determining liability is not always simple as several parties may be held responsible, including the driver, the trucking company, and the individuals responsible for loading the cargo. Some of the liability questions that will need to be reviewed include the following.
Was the trucking company responsible? Trucking companies have a duty to ensure that their vehicles are properly loaded and that cargo is secured. If they fail in their duty, they can be held liable for accidents.
Should the truck operator be held accountable? Drivers must inspect the cargo and check that it's properly balanced before hitting the road, so if they fail to perform the proper inspections or ignore signs of an unbalanced load, they could be held liable.
Did a loading crew do their job incorrectly? If a third-party loading crew was involved, they can be held accountable for any improper loading that leads to accidents.
Proving liability and seeking compensation for injuries and damages requires a strong legal strategy. If you're involved in a truck accident due to unbalanced cargo, talk to an experienced Nashville personal injury lawyer who can investigate the circumstances of the accident, identify liable parties, and build a compelling case on your behalf.
Was a truck accident you were involved in due to unbalanced cargo? A strong claim will likely require a review of the surrounding conditions as well as an analysis of driver, trucking company, and loading crew actions. Connect with the injury lawyers at Calhoun Law, PLC to explore next steps and connect with the recovery package you need. Reach out today for a free and confidential consultation.