Road Construction Hazards and Car Accidents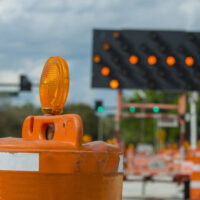 When you enter a construction zone, you see the signs saying to watch out for workers. Construction workers face a special hazard when working. They are susceptible to speeding or distracted drivers who may not see them or be able to react in time to prevent an accident. However, construction zones aren't just a hazard to the construction workers themselves. They can also be a danger to motor vehicle drivers as they pass through a road work zone.
When a driver is traveling through a work zone, if they are injured in an accident, they may be able to hold the construction company or other parties liable for their losses and medical expenses. If you are injured in a construction zone accident, you should contact an experienced car accident attorney as soon as possible to discuss your options.
Tennessee Work Zones
The Tennessee Department of Transportation (TDOT) tries to keep motorists informed about the projects that occurring on the state's highways. It seems like there is always work going on somewhere. Whether you are on the interstate or in a local neighborhood, it is likely that you will pass through a construction zone somewhere along your path.
When traveling through a road work zone, it is imperative that you pay attention to all signs and markings, slow down, and stay focused on the road and your surroundings. There is always something going on and moving in these areas and even one moment of distraction could result in a serious accident and injuries to you and those around you.
Causes of Construction Zone Accidents
Even when you are doing your best to navigate through a construction zone safely, there is still a chance that you could end up in a crash and suffer injuries. Common causes of construction zone accidents on the roadway include, but are not limited to, the following:
Failure to post upcoming construction zone or warning signs, such as lowered speed limits, road lane reductions, and other types of hazards.
Improper driving direction of construction workers.
Vehicles or equipment of the construction company left in the path of traffic.
Mistakes when operating heavy equipment or moving materials that can result in crashes with cars.
Construction crews are required to maintain and set up safe working areas. If they fail to do so, and an accident results, they can be held liable for their negligence. If this happens they may be required to pay for present and future medical expenses, loss of income both present and future, injuries and disabilities that are permanent, and pain and suffering.
Contact an Experienced Personal Injury Attorney Today
Construction company insurance adjusters, just like many other insurance adjusters, can be difficult to deal with. They don't want to pay out large sums of money. That's why it is imperative that you have an experienced car accident attorney on your side. The Nashville personal injury attorneys at Calhoun Law, PLC will review your situation and ensure your rights are protected so that you get the settlement that you are entitled to. Contact us today to schedule a consultation.
https://www.calhounlawtn.com/personal-injury-awards-and-taxes-what-you-need-to-know/