Road Rage Drivers In Tennessee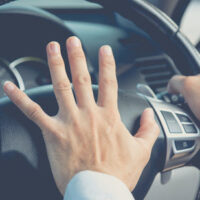 The state of Tennessee is one of the top 10 in the nation for road rage shootings; it ranks fifth according to one report. Because of this, TN law is coming down on reckless drivers. The law is doing this by deeming road rage drivers as reckless, meaning that road ragers face legal consequences, such as up to a year of jail time and thousands in fines.
Threatening, angry drivers are extremely dangerous. Avoiding these drivers is in your best interests, but that is not always possible. If you have been injured because of a reckless, aggressive driver, there could be a path to financial compensation. Talk to a Nashville personal injury lawyer to learn more.
Notice Signs of Road Rage to Respond Safely
Sometimes people who are involved in road rage collisions report the threat came from out of the blue. In other situations, there are indicators of uncontrolled anger. If you notice an aggressive driver, avoiding them is advised, this can help in keeping you out of harm's way. Because, of course, sidestepping an altercation or crash is better than sustaining property damage and physical injury.
Indicators of road rage:
Yelling at other drivers, motorcycle operators, and pedestrians.
Swerving between lanes and in and out of traffic.
Using car horns in assertive, unreasonable ways.
Making motions that are obscene.
Not giving others on the road room to operate safely, tailgating.
It is natural to be angered by an aggressive driver, but engaging with a road rage driver will only add fuel to a volatile situation. If possible, calm your own emotions and give the reckless driver space to move past you and leave your vicinity.
Keep Your Own Emotions In Check When Driving
A recent study states over 80% of drivers have reported they've felt the experience of road rage within the last year. This is a high percentage of people, and while it is easy to blame others, everyone needs to keep their emotions in check in order to safely travel on Tennessee roads and highways.
When you feel threatened, remove yourself from the situation and call law enforcement. And if you are upset, pull into a safe space until you can relax. Calling police or calming down should be done in an area that is well lit and secure, such as the parking lot of a convenience store or medical center. And if a TN road rage accident does occur, talk to a Nashville personal injury lawyer about next steps in connection to your medical bills and property damage expenses.
Were you hurt because of a reckless, road rage driver? You need to know your legal rights to compensation, the qualified Nashville personal injury lawyers at Calhoun Law, PLC can help. Our attorneys will fight for a full and fair settlement package while you focus on your own physical recovery. With a wide range of personal injury experience, Calhoun law can provide you with guidance, whether your accident was minor or severe. Reach out today for a free and confidential consultation.