Tennessee Fair Ride Accidents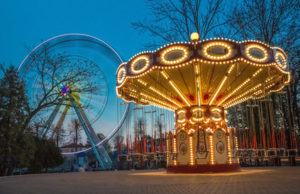 Many people attend fairs to partake in several types of entertainment, including fair rides. Unfortunately, fair ride accidents have been known to occur. Last month, several people including a ride operator were taken to the hospital after a fair ride accident at Delta Fair in Memphis. The accident occurred on a ride called the Moonraker, which spins riders in a variety of directions. The problem occurred when the ride's computer detected a problem and immediately began to automatically shut down. The Moonraker's operator, however, panicked and pressed a manual override button that released the rider's safety restraints before the ride fully came to a rest. The Moonraker is reported to have received a technical inspection in the past three years followed by two additional inspections prior to the fair's opening. In response to the accident, the Moonraker was shut down for the remainder of the fair.
Causes of Tennessee Fair Ride Accidents
Fair rides are more susceptible to accidents than larger amusement parks because fair rides often consist of less stringent safety measures. Many riders are unaware that there are a variety of ways that fair accidents can occur. Some of the most common ways that individuals can be injured by fair rides include the following:
Design defects.
Failure to post adequate ride information or warnings.
Faulty ride protection.
Inadequate security.
Improper ride installation.
Improper repairs.
Malfunctioning lap bars.
Mechanical failure.
Operator error.
Sharp or protruding parts.
Liability For Fair Ride Accidents in Tennessee
Fortunately, when fair ride accidents do occur, injured riders have the opportunity to collect damages from one of several parties, including the fair ride's operator, the fair ride's owner, or even the designer or manufacturer of the ride. Sometimes more than one of these parties might responsible for any resultant injuries. Because there are frequently several involved parties when fair ride accidents occur, it is often essential to perform a thorough investigation of exactly how the ride accident occurred. A skilled premise liability lawyer can prove essential for determining the exact cause of any injuries that result from such a situation.
Advice For Individuals Who Use Fair Riders
To reduce the risk of a fair ride accident occurring, there are a few steps that riders can take to help prevent being injured while on a fair ride, including:
Dress Appropriately. Riders should try to avoid loose clothing that could become caught on parts of the ride.
Obey All Posted Warnings. Before experiencing a ride, individuals should make sure to fully read and obey all posted ride information.
Individuals should research the history and news attached to rides that might be dangerous prior to riding.
Reasons To Contact A Top Tennessee Premises Liability Lawyer
If you have been involved in a fair ride accident, it is very easy to find yourself suddenly presented by the challenges brought on by a personal injury. At Calhoun Law, PLC in Tennessee, our talented premises liability lawyers have the experience and talent to fight zealously to ensure that individuals receive due compensation and that cases conclude in the best possible manner.
Resource:
http://www.insurancejournal.com/news/southeast/2016/09/08/425752.htm