TN All-Terrain Vehicle Risks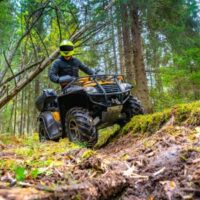 Tennessee's beautiful landscapes and rugged terrain make it a haven for outdoor enthusiasts. For some, one of the preferred ways to take in all of the state's beauty is to explore areas on all-terrain vehicles (ATVs). While ATVs offer an exhilarating experience, they also come with inherent risks, and when accidents happen serious injuries can result.
If you are in need of financial relief due to ATV injury expenses, connect with a Nashville personal injury lawyer who has experience with different types of ATVs, the risks they carry, and is familiar with how to connect injured parties with maximum settlement amounts.
Damage Recovery and Types of ATVs
After a Tennessee ATV accident, recovering damages typically involves two main categories, economic damages and non-economic damages. Tangible financial losses you incur due to the accident are referred to as economic damages and include medical expenses, property damage, lost wages, and potential future medical costs. Non-economic damages are intangible losses, such as pain and suffering, emotional distress, and loss of enjoyment of life, which can be more challenging to quantify but are equally important.
To seek damage recovery, there will be a process of establishing liability, essentially determining who was at fault for the accident, whether accountability lies with the ATV rider, the ATV manufacturer, someone driving a separate motor vehicle, or another party.
Tennessee offers an array of terrains suitable for various types of ATVs. Each accident analysis will take the type of ATV and the surrounding circumstances of the accident into account. Each type of ATV carries its own set of risks.
Utility ATVs. These vehicles are designed for work, have a high center of gravity, and are at risk for rollovers.
Sport ATVs. Built for speed and maneuverability, the design of sport vehicles makes them more prone to accidents due to the potential for reckless driving.
Dirt bikes. Lightweight, single-track vehicles designed for off-road use, dirt bikes are at risk for accidents due to their speed and the rough terrain they navigate.
Side-by-sides. Multi-passenger vehicles are popular for both work and recreation, side-by-side ATVs can have a high rollover risk.
Youth ATVs. While youth vehicles are smaller and are often designed for younger riders, they can still cause serious injuries if not used responsibly.
Common causes of ATV accidents in Tennessee include operator error, reckless driving, alcohol impairment, and mechanical failures.
How an Attorney Can Help After an ATV Accident
After an ATV accident injury, an experienced Nashville personal injury lawyer can thoroughly investigate the accident, gather evidence, interview witnesses, and consult experts to build a strong case on your behalf. Once the evidence is in place and liability has been established, attorneys can negotiate with insurance companies and other parties to ensure you receive fair compensation for your injuries and losses.
Could an attorney help you after an ATV accident? The qualified Nashville personal injury lawyers at Calhoun Law, PLC are available to guide you through the recovery process, ensuring your rights are protected and that you receive the compensation you deserve. Reach out today for a free and confidential consultation.