Understanding Nashville Premises Liability Law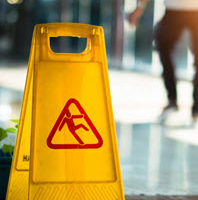 It happens quite often – someone is at a local bar, restaurant, or even a friend's house and they wind up suffering a slip and fall injury. The Bureau of Labor Statistics reports that over 42,000 workers suffered premises injuries while on the job, and that's only injured workers. If you or a loved one suffered a slip and fall injury, you probably have questions about the legal process and whether you have a viable premises liability claim. The information below is intended to help answer some of your questions. 
Duty of Care Owed by Property Owners
Under Tennessee law, a property owner owes a duty to maintain the property in a reasonably safe manner and exercise due care to prevent injuries to visitors. If a property owner fails to do this and allows a dangerous condition to exist on their property, they could be held liable for any injury that occurs on the property. 
Private Property Defined
Private property is considered to be any property owned by an individual, partnership or corporation. Basically, it is property not owned by the government or public. 
Visitor Defined
It is important to define who qualifies as a visitor since there are different legal standards applied to a premises liability claim based upon who the injured party was relative to the property owner. Under Tennessee law, a visitor is someone who has either expressed or implied permission to be on the property. 
Trespasser Defined
Conversely, a trespasser is someone who enters or remains on property without the express or implied permission of the property owner. If someone is engaged in an illegal activity (e.g., attempted burglary) then they would be considered a criminal trespasser under state law. When someone is deemed to have been trespassing on the property, the only duty a property owner owes is to not intentionally harm the trespasser.
There is an exception to this rule and that is if the trespasser was a child. If a child enters your property because they are attracted to it by a swimming pool or tree house, they are generally not held responsible for their own actions. In these cases, the property owner remains liable for any injuries the child suffers. 
Heightened Duty of Care for Commercial Property Owners
The standard of care for a commercial property owner is typically higher in the eyes of the law. There is a reasonable expectation that when someone goes to an establishment like a restaurant, a grocery store, etc. that the premises will be safe. Also, when a business owner invites members of the public onto their property and is attempting to make money from them, the duty of care is heightened to make sure the property is safe. 
Speak to a Nashville Premises Liability Lawyer Today
As you can see, premises liability law is complex and the viability of a claim depends on the specific facts of your case. This is why you need the guidance and counsel of an experienced personal injury lawyer at Calhoun Law, PLC in Nashville, Tennessee. Our legal team is ready to help. Contact our Nashville premises liability and slip & fall lawyers today to schedule a free consultation.
Resource:
bls.gov/opub/ted/2016/42480-work-injuries-involved-ice-sleet-or-snow-in-2014.htm