Vehicle Fires In Tennessee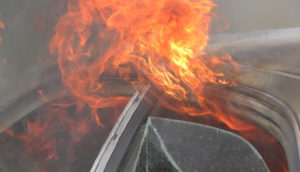 Earlier this month, a bus that was transporting forty marines from Camp Lejeune in North Carolina to a Marine Corps' event in Nashville caught fire while traveling along Interstate 24. All of the bus's passengers quickly got off the bus. Fortunately, none of the bus's passenger were injured in this event.
The Rate Of Vehicle Fires
Surprisingly, this vehicle fire is just one of many similar incidents that occurred in Tennessee this year. The National Fire Protection Association reports that from 2003 to 2007, fire departments responded to an average of 287,000 vehicle fires per year, which caused 480 civilian deaths, 1525 civilian injuries, and $1.3 billion in property damage.
The Causes Of Tennessee Vehicle Fires
There are a wide variety of ways that vehicle fires can occur. The National Fire Protection Association has revealed that defective vehicle design or manufacturing defects cause two thirds of vehicle fires. Motor vehicle fires can also be caused by electrical malfunctions, which frequently begin around the dashboard. These fires often occur in a sudden and unexpected manner. Vehicle collisions, rolls, and flips account for only four percent of vehicle fires but these fires account for sixty percent of vehicle fire deaths. When a vehicle's fuel-delivery system or gas tank are defective, ruptures can cause gasoline to create fires.
Injuries Due to Vehicle Fires In Tennessee
One of the most common types of injuries that individuals incur from vehicle fires are burns. Individuals with significant burns frequently face painful treatment and require several surgeries. Due to these substantial physical injuries, many individuals are unable to perform work in the manner which they once could, which can create difficult financial situations.
Advice For How Individuals In Tennessee Should Handle Vehicle Fires
There are two types of safety precautions of which individuals in Tennessee should be aware concerning vehicle fires. First, individuals should know some basic safety tips on how to avoid motor vehicle fires. While learning this information will not eliminate the risk of vehicle fires occurring in every situation, individuals should make sure to: regularly service vehicles, transport flammable liquids in only small amounts, and never travel with gas containers in a vehicle's passenger compartment. Individuals in Tennessee should also know some basic information about how to respond in the event that a motor vehicle catches on fire. If faced with a vehicle fire, individuals should make sure to: pull over to the side of the road as soon as a safe location is found, turn off the vehicle's engine, make sure that all passengers are out of the vehicle, ensure that everyone maintains a distance of at least one hundred feet away from the fire, and contact emergency services including law enforcement and medical assistance if necessary.
How A Top Nashville Accident Lawyer Can Help
If you or a loved one has been involved in a vehicle fire, consider contacting the legal counsel at Calhoun Law, PLC in Tennessee. Our firm has the ability to help clients obtain compensation for losses created by a vehicle fire which frequently include medical costs, lost wages, and other resultant damages.
Resources:
http://abcnews.go.com/US/wireStory/bus-carrying-marines-nashville-catches-fire-hurt-41881638
http://www.nfpa.org/news-and-research/fire-statistics-and-reports/fire-statistics/vehicle-fires/vehicle-fire-trends-and-patterns