What Is A No-Contact Motorcycle Accident In Nashville, Tennessee?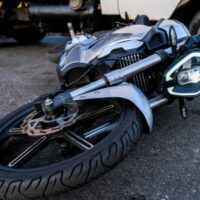 Not all motorcycle accidents involve a motorcycle colliding with other motor vehicles on the road. A motorcyclist may crash their bike without having any direct contact with other vehicles. When this happens, this type of accident is considered a no-contact motorcycle accident.
However, even though a motorcyclist did not collide with another vehicle, the driver of the vehicle may be held liable for the crash if their negligence caused or contributed to the accident.
Do not hesitate to contact a Nashville motorcycle accident lawyer if you or a loved one has been involved in a no-contact accident. Our knowledgeable attorney Colin B. Calhoun is here to help you seek the compensation to which you are entitled.
Causes of No-Contact Motorcycle Accidents
A no-contact motorcycle accident can occur for a variety of reasons. This type of accident occurs when a driver of another motor vehicle causes a motorcyclist to crash or be involved in an accident without any direct contact between their vehicles
A motorcycle rider may lose control of the motorcycle due to other drivers' negligent operation of motor vehicles. Some of the causes of no contact motorcycle accidents include:
Failure to maintain a safe following distance
Speeding
Weaving in and out of lanes
Running red lights
Distracted driving
Drunk driving
Unsafe lane changes
It can be challenging to determine liability for a no-contact motorcycle accident, also known as a phantom crash, especially if the other motorist fled the scene of the accident. If another driver's negligent behavior caused you to lose control and be involved in a no-contact motorcycle accident, you could hold the negligent driver liable for your damages and losses.
How to Prove Fault in a No-Contact Motorcycle Accident
There are certain steps you should take to prove the other driver's fault for causing your no-contact motorcycle accident:
Call 911 and wait for the police
It is vital to call 911 immediately after being involved in a no-contact accident, especially if the driver who caused the accident fled the scene of the accident. Wait for the police to investigate the scene and write a police report.
Collect evidence
If possible, memorize the at-fault driver's license plate number, vehicle make, model, and color, and other characteristics that can help track down the motorist. Take photos at the scene of your no-contact accident. Ideally, you should have a helmet-mounted camera that captured the moment of the crash to be able to prove liability.
Obtain witness statements
If anyone witnesses your no-contact motorcycle accident, write down the witnesses' names and contact information. Witness statements can help you strengthen your case when seeking compensation after a motorcycle accident.
Speak with a lawyer
If you have been involved in a no-contact accident, it is highly recommended to seek the legal counsel of an experienced attorney to help you prove fault and obtain compensation on your behalf.
Consult with a Nashville Motorcycle Accident Attorney
Schedule a consultation with a knowledgeable and dedicated motorcycle accident attorney in Nashville to help you recover damages while you focus on your recovery. Call 615-375-4773 to receive a case review with our attorney at Calhoun Law, PLC.