What To Do When An Insurance Claim Doesn't Pay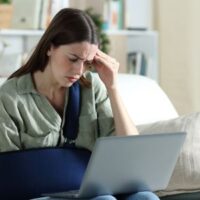 Filing an insurance claim after a car accident or slip and fall injury in Tennessee is a crucial step towards putting the incident behind you. But what do you do if you are simply not receiving compensation for your damages? It can be disheartening when the insurance company fails to pay or offers an inadequate settlement, but you may have more options than you realize.
Legal professionals are familiar with the common tactics used by insurance companies to avoid payouts. A Nashville personal injury lawyer can assist you in navigating challenging negotiations and denials in order for you to secure the recovery amount you deserve.
Tactics Used to Avoid Payouts
Each situation has its own details to assess, but the following are common tactics insurance companies use to avoid paying out on accident claims.
Questioning evidence. When an insurance company begins to question the evidence or challenge the severity of your injuries, they could be doing so to argue that the accident was not the cause of your injuries or suggest that your injuries existed before the incident. Essentially, this is a tactic used to undermine your claim and reduce the compensation owed to you.
Shifting blame. Another common avoidance tactic is to shift blame onto the injured party or other third parties involved in the incident, such as suggesting that your actions contributed to the accident or that another party should be held responsible. This tactic is employed in an attempt to diminish their liability and avoid making a full payout.
Delaying a settlement. Intentionally prolonging the claims process and causing an injured party and their family frustration and financial strain could be done in order to pressure claimants to accept a settlement that is lower than they originally demanded or to have them abandon their claims altogether.
Low offers. In some cases, insurance companies may make initial settlement offers that are far below the actual value of the claim, offers that fail to account for the full extent of your losses. If you were to accept one of these offers, you would be inadequately compensated for your damages.
An experienced injury professional can assess the details of your case, review the evidence, and guide you toward a full compensation offer. They will consider the tactics employed by the insurance company and advise you on the best course of action.
Gathering Strong Evidence
One of the many ways a Nashville personal injury lawyer can support your need for recovering is gathering the right documentation to support your claim. Attorneys understand the importance of strong evidence in building a solid case, and they can gather medical records, accident reports, witness statements, and any other pertinent evidence to counter the tactics employed by the insurance company.
Do you need a lawyer because an insurance company is refusing to pay or offering you an inadequate amount? Talk to the personal injury lawyers at Calhoun Law, PLC. Our attorneys know how to ensure your voice is heard and your damages are properly compensated.. Get in touch now to schedule your free and confidential consultation.