What You Need to Know If You've Been in a Motorcycle Accident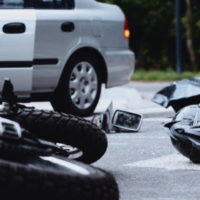 Officials with the Tennessee Highway Patrol identified the woman who died in a motorcycle crash along Highway 36 in Washington County. The woman was a 32-year-old Telford, Tenn., resident. She was a passenger on a motorcycle that struck a truck that was pulling a trailer. The driver of the motorcycle was taken to the hospital for treatment and charges are pending.
According to the National Highway Traffic Safety Administration, motorcycle crashes cause 27 times more fatalities than any other type of vehicle crash. That means if you are a motorcycle rider, it is important that you know what to do if you are ever in an accident.
Steps to Take If You've Been Injured in a Motorcycle Accident 
If you've been injured in a motorcycle crash, the steps you take in the following minutes, hours, or days after could affect your ability to protect yourself and your legal rights. This time is critical, so following these steps could help you if you ever find yourself in a wreck.
Call 911 – Immediately call 911 to summon the police and emergency medical services if people are injured.
Exchange Information – While you are waiting for emergency personnel to arrive, exchange your name, contact information, and insurance information with the other parties involved in the crash.
Refuse Suggestions to Not Report the Accident – If the other driver is at fault, they may be concerned about reporting the accident for fear their insurance rates will go up. Don't ever let them talk you out of reporting the accident. Failing to report the accident could make it hard to prove that the other driver caused the accident, leaving you unable to get payment for your damages.
Stay Calm – Although emotions will likely be running high after the accident, it's important to maintain your composure and avoid arguing with the other driver. Give the police officer your account of what happened and let them reconstruct the accident.
Don't Discuss Your Injuries – Don't discuss with other parties how the accident occurred and try not to discuss your injuries with them. Some injuries don't reveal themselves for hours or even days after the accident.
Locate Witnesses – If there were witnesses to the accident, such as passengers, attempt to collect their names and contact information before they leave.
Take Photographs – If you are able to, use your phone and take pictures of damage to both vehicles, the injuries of you and the other parties involved, as well as the scene and location of the accident.
See Your Doctor – Even if you don't require emergency medical care, try to see your doctor as soon as possible for a full evaluation and be sure that your doctor documents that you have been in an accident.
Contact Your Insurance Company – Report the crash to your insurance agent as soon as possible. If a representative from the other parties' insurance company contacts you, politely decline to speak to them or give any type of statement.
Contact an Experienced Personal Injury Attorney – An experienced personal injury attorney will handle the insurance companies for you and advocate for your best interests. You shouldn't have any more stress than necessary while attempting to recover.

Contact an Attorney Today 
The attorneys at Calhoun Law, PLC have the experience and knowledge to protect your rights and be sure that you receive all the compensation that you are entitled to. They have years of experience handling a variety of legal issues for victims that have been injured due to the negligence of others. Contact them today for a consultation.
Resources:
nhtsa.gov/road-safety/motorcycle-safety
wjhl.com/local/woman-killed-in-crash-along-highway-36-in-gray-tennessee/1232189502