When Motor Vehicles Break Down On Tennessee Roads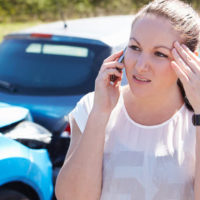 Motorists in Tennessee must be particularly careful when they find themselves stranded or their vehicle breaks down while on the road. A recent example about the dangers presented by broken down vehicles occurred earlier this year. In the early morning, an individual who was disoriented due to alcohol and prescription medication was struck by a motor vehicle on Highway 41 in Pleasant View. At the time that this incident occurred, the individual who was positioned in the center lane of the highway was trying to gain the attention of passing vehicles. The individual appears to have leaned too far into an adjacent lane, resulting in the individual's knee to be struck by an oncoming vehicle and causing the individual's head to strike the vehicle. After the victim collapsed, he was then run over by at least two other motor vehicles. While the man in this accident does not appear to have been driving a vehicle at the time the accident occurred, many motorists in Tennessee find themselves in similar situations due to vehicles that break down while being driven across Tennessee roads.
Steps To Avoid Being Involved In An Accident When A Vehicle Breaks Down
In the event that a driver's vehicle breaks down, there are several important safety precautions that they should follow to avoid an accident.
Stay Off The Road. If safe and possible to do so, drivers should attempt to move the disabled vehicle off the roadway as far as possible. They should wait on the grassy area adjacent to a highway rather than standing on the road, which places them in much greater danger of being struck by a vehicle. If a stranded driver decides to remain in their vehicle, it is a wise idea to put the vehicle's hood up and lock the vehicle's doors. They must also avoid leaving an engine on for extended periods of time to heat or cool a vehicle, which can lead to carbon monoxide poisoning. If a driver must leave a vehicle, it is best to exit from the passenger's side that is positioned away from traffic.
Notify Other Drivers Of The Vehicle's Condition. If it is still possible to activate a vehicle's hazard flashers, it is often a wise idea to do so. Placing a "Help" sign in one of the vehicle's windows so that the sign is visible to other motorists is also a smart idea. If a driver has a flare or reflective material, they should use these items but be cautious to avoid oncoming vehicles when doing so.
Contact Authorities. If possible, stranded drivers should call emergency services or roadside assistance. They should note any mile markers or landmarks to provide emergency services or roadside assistance with an idea of the motorist's location.
Consult With An Experienced Accident Lawyer
If you experience any type of injury or property damage due to the negligence of another driver while your vehicle is broken down on a Tennessee road, you likely need the assistance of a strong and experienced lawyer like the legal counsel at Calhoun Law PLC to help create as strong a case as possible. Do not hesitate to contact our firm today.
Resource:
patch.com/tennessee/nashville/soldier-killed-bizarre-accident-tennessee-highway