Where Do Tennessee Slip and Fall Injuries Happen?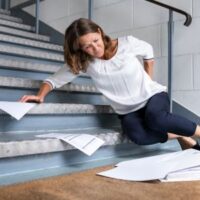 Injuries due to slip and fall incidents are common in Tennessee and across the nation. While accidents can occur anywhere, there are certain locations that are more prone to slip and fall events than others.
An understanding of where slip and fall accidents are likely to happen can help you take necessary precautions. And if you have already sustained an injury, a Nashville personal injury lawyer can help you move through the legal process, determine liability, and pursue a full and fair compensation amount so you can access the care you need and rebuild your life.
Stores, Restaurants, and Resorts
Locations that do retail business, including supermarkets, department stores, and convenience stores, are frequent slip and fall accident locations. The falls can happen in a range of ways, and many take place due to spills, wet floors, uneven surfaces, or cluttered areas which create hazardous conditions. Property owners and store managers should maintain safe spaces for their workers and guests, they have a duty to provide an environment where customers can shop safely and workers can perform tasks without incident.
Restaurants and bars in Nashville and throughout Tennessee have their own accident dangers. For instance, many feature dimly lit areas, crowded spaces, and alcohol consumption, which can increase the risk of accident injuries. Combine these dangers with wet or greasy floors, poorly maintained restrooms, or uneven outdoor patio areas and the occurrence of slips, trips, and falls escalates.
Plus, beyond Tennesseans going to their favorite shops and restaurants, there is a booming tourism industry in Nashville, and hotels, resorts, and lodges are abundant to meet the needs of visitors. While many enjoy their stay without harm, there are others who slip and fall in hotel lobbies, guest rooms, or on swimming pool decks, and the injuries sustained can be painful and slow to heal.
Apartment Complexes and Office Buildings
There are even instances of people being injured in the places they spend the most time and are less likely to assume there will be a danger, places like home and work. Yet apartment complexes can have risks, particularly when there is insufficient lighting, uneven surfaces, and inadequate maintenance in common areas such as hallways, stairwells, and parking lots.
Within Nashville office buildings, and in workplaces across Tennessee, there could be loose carpeting, unsecured rugs, wet floors, or poorly lit stairwells, all of which can contribute to injuries as well.
Whether you were injured in your favorite nightclub, in the common area of your apartment complex, or while shopping for groceries, property owners and management companies could be held accountable, because they have a responsibility to provide a safe environment. To protect your rights, talk to a Nashville personal injury lawyer.
Should you talk to a legal professional about your slip and fall injury? If you or a loved one has been injured in a slip and fall accident due to someone else's negligence, consult with the personal injury lawyers at Calhoun Law, PLC. Doing so means you can make an informed decision about your recovery process. Contact us today and schedule a free consultation.