Who Can File A Wrongful Death Lawsuit In Tennessee?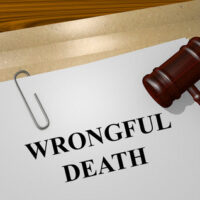 Not all family members of a deceased individual are eligible to file a wrongful death claim in Tennessee. Under Tennessee law, wrongful death refers to a death caused by someone else's criminal wrongdoing or negligence.
If your loved one died due to someone else's negligent conduct or criminal wrongdoing, consider speaking with an experienced attorney to discuss your particular situation and determine if you are eligible to file a wrongful death lawsuit to recover damages.
Colin B. Calhoun, the founding lawyer at Calhoun Law, PLC, is a compassionate and results-driven wrongful death lawyer who helps injured victims and their families in Nashville seek the compensation to which they are entitled.
Who Can Bring a Wrongful Death Suit in Nashville, TN?
Typically, wrongful death lawsuits are brought by the surviving spouse of the person who died as a result of someone else's wrongful act, negligence, or omission. The decedent's surviving spouse has a right to file a wrongful death lawsuit in Tennessee unless any of the following is true:
The surviving spouse abandoned the decedent;
The surviving spouse had willfully withdrawn from the decedent for a period of two or more years; or
The death was the result of the surviving spouse's intentional conduct.
If the decedent got divorced before their death, their former spouse would not have a right to bring a wrongful death lawsuit to seek compensation.
Who Else Can File a Wrongful Death Lawsuit?
When the surviving spouse cannot bring a lawsuit for any of the reasons mentioned above or the deceased individual had no spouse, the following individuals may be eligible to recover damages by filing a wrongful death lawsuit:
The decedent's children
The decedent's next of kin
A personal representative of the deceased's estate
The decedent's surviving parents, if the deceased individual was their dependent
If multiple individuals bring a wrongful death lawsuit, a Tennessee court will consolidate their cases before determining who has the right to proceed and recover damages. Courts also consider a number of factors when determining whether or not a family member is eligible for compensation through a wrongful death suit.
What is the Time Limit to Bring a Wrongful Death Suit in Tennessee?
Under Tennessee Code § 28-3-104, eligible surviving family members can file a wrongful death lawsuit within a year (12 months) from the date of death. Contrary to popular belief, the statute of limitations does not begin on the date of the injury.
What Damages Can You Recover in a Tennessee Wrongful Death Lawsuit?
Plaintiffs in wrongful death cases in Tennessee can seek compensation for the following damages and expenses incurred after their loved one's death:
Funeral and burial expenses
Loss of income and financial support
Loss of other benefits;
Pain and suffering
Mental anguish and emotional distress suffered by surviving family members
The decedent's medical bills before their death
Loss of consortium and companionship
Loss of care, guidance, and knowledge
If your loved one died in an accident caused by another party's negligence or wrongful conduct, consider speaking with an attorney to identify the types of damages that you could recover in your wrongful death lawsuit. Schedule a case evaluation with our Nashville wrongful death lawyer at Calhoun Law, PLC, by calling 615-375-4773.