Who's at Fault in Single-Vehicle Accidents in Tennessee?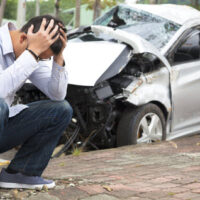 Not all motor vehicle collisions involve two or more cars. Sometimes, just one vehicle is enough to cause a devastating car crash. When a single-vehicle accident happens, the occupants of the vehicle that went off the road or crashed into a fixed object such as a tree are wondering, "Will I be able to obtain compensation or will I have to pay for the damages all by myself?"
Contrary to popular belief, just because you are the only one involved in the accident does not necessarily mean that you are the one to blame for the crash. While driver error is responsible for a large percentage of single-vehicle collisions in Tennessee, there are crashes in which a third party can be held at fault.
Causes of Single-Vehicle Accidents
A fatal single-car accident recently occurred in Nashville in the 2500 block of Couchville Pike. According to WKRN, one high school student died, and two others were critically injured in the crash. The driver and two passengers were all McGavock High School students.
The preliminary investigation showed no signs of drunk driving or drug use at the scene. Investigators found that the driver of the 2003 Acura was traveling at high speed when the vehicle went off the road in a curve. The 18-year-old driver overcorrected, and the car went off the opposite side of the road and struck a culvert and collided with a tree.
While alcohol use is a significant factor in single-car crashes, these accidents often involve factors outside the driver's control:
Adverse weather conditions
Poor road conditions such as potholes
Improperly designed construction zones
Road construction hazards
Mechanical defects
Faulty car parts
Improperly maintained roads
Malfunctioning traffic lights
Inadequate traffic delineators
Poorly placed road signs
Swerving to avoid road debris
Swerving to avoid wildlife (animal-vehicle collisions)
Who's at Fault in Your Single-Car Accident?
Your insurance company is likely to put the blame solely on you. After all, the argument, "You were the only driver, who else can be held at fault?" sounds convincing, doesn't it? Depending on what caused your single-vehicle collision, the following parties may be held at fault:
Another motorist. If your single-vehicle crash was the result of swerving to avoid a collision with another car, the other driver is most likely at fault.
The vehicle manufacturer. A large number of single-vehicle accidents are the result of a mechanical defect (e.g., defective brake system) or faulty parts or components in the car.
The city, county, or municipality. If the single-car collision occurred due to improper road design or maintenance, you might be able to sue the government agency that was responsible for designing and maintaining the portion of the road where the crash happened.
Typically, establishing fault in a single-car accident can be tricky, especially if the insurer is convinced that it was entirely your fault. Contact a Nashville car accident lawyer to establish fault in your crash. Call Calhoun Law, PLC, at 615-645-2015 for a consultation.
Resource:
wkrn.com/news/local-news/police-fatal-single-car-crash-1-killed-2-injured/
https://www.calhounlawtn.com/are-car-accident-settlements-classified-as-income-in-tennessee/