Who's Liable in a WeGo Bus Accident in Nashville?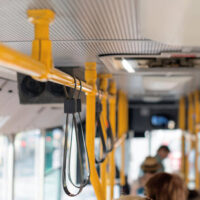 Because buses can carry dozens of passengers at a time, a bus crash can cause devastating injuries to multiple persons both inside and outside the vehicle. Victims of bus accidents may be drivers and passengers in other vehicles, bus passengers, bicyclists, pedestrians, and others.
Many commuters in Nashville opt for WeGo buses as a convenient means of public transportation in the city. But how is liability determined if a WeGo is involved in a vehicle crash?
If your accident involved a bus operated by WeGo Public Transit in Nashville or other parts of Tennessee, you might be able to seek compensation through a personal injury claim.
Fatal WeGo Bus Accident in Nashville
A car driver died in an accident involving a WeGo bus in Nashville. According to WSMV, the fatal WeGo bus crash occurred just after 9 a.m. on Old Hickory Boulevard near Madison. The bus and SUV crashed head-on near the intersection of Lawing Drive and Old Hickory Boulevard.
The 29-year-old SUV driver died at the scene, while the bus driver suffered non-critical injuries. There were two passengers on the bus, but none of them was injured. Investigators found that the SUV driver crossed over a double yellow line and collided with the WeGo bus. Witnesses say that the driver had been driving erratically.
The bus crash is being investigated as a potential DUI accident, though it is unknown if the SUV driver was impaired. WeGo Public Transit sent its supervisors to the scene.
Can You File a Claim Against WeGo?
WeGo Public Transit is formerly known as the Nashville Metropolitan Transit Authority (MTA). The provider of public transportation serves Nashville and Davidson Counties and transports nearly 10 million riders each year. The agency, which was founded in 1973, operates both commuter and paratransit buses.
While it is possible to file a claim against WeGo Public Transit, the claims process against the agency will be different from that of suing an individual (such as another motorist, bicyclist, pedestrian, etc.).
Suing government entities presents its own legal challenges, and seeking compensation from a Tennessee public agency can be complicated. Under Tennessee law, government entities have immunity against various types of lawsuits.
The Legal Challenges of Suing WeGo (or Any Other Tennessee Government Entity)
Depending on whether you can prove WeGo's negligence, you may be able to file a claim against Nashville's provider of public transportation. Prior to suing WeGo or any other government entity in Nashville, you have to file a notice of intent with the city to inform about:
The type and severity of your injury;
How and when the injury occurred; and
How much money you expect to receive in compensation.
If WeGo does not respond to your notice of intent or the agency rejects your claim, your Nashville car accident attorney can file a lawsuit. You have no time to waste because Tennessee law allows injured persons to sue a government entity within one year after the accident.
When Can WeGo Be Held Liable for Your Injury in Nashville?
Depending on how your WeGo bus accident occurred, you can pursue a claim against:
WeGo Public Transit for failing to maintain its vehicles correctly and/or failing to train and supervise drivers properly;
Bus manufacturer if the vehicle had a defect;
Drivers of other vehicles involved in the WeGo bus crash; and/or
The government agency responsible for maintaining the road, traffic lights, signs, etc.
Talk to a Nashville car accident lawyer to determine if WeGo can be held responsible for your injury. Contact Calhoun Law, PLC, to evaluate your case. Call at 615-645-2015 for a free case evaluation.
Resource:
wsmv.com/news/davidson_county/person-killed-in-crash-involving-a-wego-bus-in-nashville/article_fc491648-4764-11ea-a297-27d30bbc7a3d.html
https://www.calhounlawtn.com/when-to-return-to-work-after-a-car-accident-in-tennessee/