5 Ways To Strengthen Your TN Accident Claim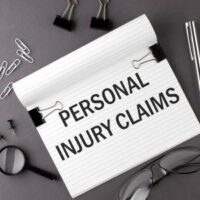 If you were hurt in a vehicular accident or a slip and fall event, you may be eligible for personal injury compensation, but part or the process is often proving your need for financial recovery. Because of this, you will need evidence that your injury requires medical care, receipts for out-of-pocket fees, and lost wage documentation.
Accidents are traumatic and upsetting, it may not be possible to follow all of the steps required to strengthen a personal injury claim. Simply do your best, and connect with a Nashville personal injury lawyer as soon as possible.
Call the authorities. Even if other parties involved in the accident want to settle without making an official report, having the accident reported is essential. It is possible there are injuries and property damage that are not immediately apparent.
Gather information from other parties, including phone numbers, insurance information, and the make and model of their vehicles.
Take pictures. You don't need to be a professional photographer, collecting images of the accident site and injuries sustained by taking photos and videos on your phone is helpful.
Ask witnesses for their contact information and gather their explanations of what they saw, either writing it down or recording their account of the accident.
If medical care is at the scene, accept care. Or, seek medical care on your own through a visit to an emergency room, an urgent care center, or seeing your primary care physician without delay.
Seeking medical care is important for a few different reasons. One, you need to obtain a treatment plan to heal properly. Two, there may be injuries that you were unaware of, and three, the medical documentation of your injuries can support your claim.
Tell Insurance Adjusters to Talk to Your Lawyer
A representative of an insurance company could contact you after an accident and insist they are offering you a fair settlement and you must agree to the terms immediately. But it is possible their sense of urgency is connected to the settlement offer being far lower than what you would be able to secure with the support of a Nashville personal injury lawyer.
You deserve the best care you can get for your physical injuries and often that care is expensive. Financial recovery to make you whole, meaning all of your expenses will be covered, may be in reach. Once you hire an attorney, they can look over all the documentation you have gathered and assist you in securing additional evidence, if possible. Then, the worth of your claim will be discussed.
Are you ready to fight for the damage recovery amount you need to move past a Nashville car or truck crash? Talk to the knowledgeable Nashville personal injury lawyers at Calhoun Law, PLC. Our skilled attorneys know what steps you need to take in order to strengthen your claim. Because legal experts have a wide range of personal injury claim experience, they understand how much claims are worth and how to access those funds. Reach out today for a free and confidential consultation.