Be Sure Your Head is in the Right Place When Driving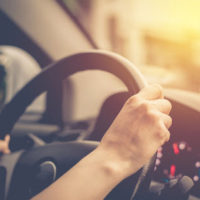 You know that there are certain things that you need to stay focused on when you get behind the wheel. You should always wear your seatbelt, obey the speed limit, reduce your distractions, and never drive while impaired. However, there is another trait that many people forget to focus on when it comes to keep you and your loved ones safe when hitting the streets. You need to stay calm.
Drivers who get too emotional when driving are much more likely to lose control of the car they are driving or be in an accident. Whether they are upset, panicked, stressed, or angry, these emotions can affect judgement, reaction times, and your ability to track other vehicle's movements. It is important to drive with a clear state of mind, which can be easier said than done, especially if it is rush hour and you've had a long day at work.
Tips for Staying Calm 
Because your emotional well-being is so important when driving, here are a few tips to help keep your mind where it needs to be the next time you hit the road:
Don't respond to or provoke emotional drivers – Aggressive drivers tend to rear their ugly heads when traffic is heavy. If you encounter one, don't respond to their actions. Avoid eye contact, honking your horn, or other retaliation.
Avoid heavy traffic by taking back roads – Being stuck in bumper to bumper traffic can be stressful. People who are regularly stuck in these conditions tend to be more likely to become angry or make poor decisions. Consider taking an alternative route to avoid heavy traffic.
Prepare for the unexpected – It's easy to fall into a driving routine, but never take your safety or driving for granted. Be a defensive driver and stay ahead of the worst possible scenarios can help keep you stay out of trouble.
Give yourself plenty of time – No one likes to run late, and sometimes it seems like every driver is conspiring against you to make you late. Even the slowest traffic can be less stressful if you've given yourself plenty of time to get to your destination.
Practice handling stressful situations – Just driving in snow, rain, or fog can be nerve wracking for some people. Instead of avoiding these situations, consider facing them head on. The more practice you get, the less these situations will impact you when you're behind the wheel.
Maintain your vehicle and keep it clean – Driving a vehicle that is unreliable is a huge source of stress. Not knowing if you will make it to your destination can sometimes be avoided by routinely maintaining your vehicle. Keeping it clean and clear of clutter can also give you peace of mind.
Be prepared for an emergency – You need to have a plan in place for how you will handle an emergency if it happens. Know who you can call and have their phone numbers, the number of your insurance agent, tow company, and any others that you may need saved in your phone.
Contact an Experienced Personal Injury Attorney Today 
Even being prepared for an accident can't always protect you. If you have suffered injuries in a car accident, contact the Nashville personal injury attorneys at Calhoun Law, PLC today. Let us handle the insurance companies so you can focus on your recovery.
Resource:
tn.gov/safety/driver-services/reinstatements/frdui.html
https://www.calhounlawtn.com/can-seatbelt-use-impact-your-car-accident-claim/