Can Seatbelt Use Impact Your Car Accident Claim?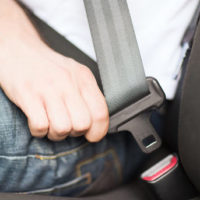 A woman died in a car accident in Madison County after the Nissan Maxima she was a passenger in struck a Ford Mustang. Summer Walden, age 40, was pronounced dead at the scene of the crash and was not wearing a seatbelt. Both the other passenger and the driver in the Nissan were taken to the hospital. The driver of the Ford did not suffer injuries. The crash is under investigation.
Seatbelts and Car Accidents 
One of the very first things that many insurance companies will ask after you've been in an accident is whether or not you and your passengers had on your seatbelts when the accident occurred. If you answer no, you may fear that your ability to receive compensation will be affected, even if you weren't the one at fault. However, this won't likely be the case. Here's what you need to know about seatbelt use and comparative negligence laws in Tennessee.
Tennessee Seatbelt Laws 
It is important to understand the laws in Tennessee regarding seatbelt use while driving. In many states, it is mandatory for a driver or passenger in a motor vehicle to wear a seatbelt. In Tennessee, the law states that no one shall operate a vehicle unless the driver and the passengers ages four years of age and older are wearing seatbelts while the vehicle is in motion. This means that everyone in the vehicle must be safely strapped into a seatbelt at all times when the car is moving.
Violators of this law can receive fines and citations, and you may receive a ticket if you are in an accident and not wearing one. However, when it comes to an insurance claim or personal injury claim, the defendant will not likely be allowed to use the fact that you weren't wearing a seatbelt against you because Tennessee law forbids it.
Comparative Fault Laws and Seatbelts 
Tennessee is considered a comparative fault state. This means that if you are in a car accident, you may be entitled to recovery of your damages even if you were partially at fault for the car accident. For example, the other driver rear-ended you, but you had a taillight out on your vehicle. The court may assign you a percentage of fault for the accident because the person driving behind you didn't see your brakes come on due to the taillight not working. Because of this, if you would have received $100,000, but you were found 20 percent at fault for the accident, your compensation would be reduced by $20,000.
When it comes to wearing a seatbelt in a car accident, it might seem reasonable to argue that since the person broke the law and wasn't wearing their seatbelt, they could be found at least partially at fault for their injuries. However, Tennessee specifically bans a defendant's use of this claim when it comes to contributory negligence unless the plaintiff has filed a claim for product liability.
Contact an Experienced Car Accident Attorney Today 
If you have suffered injuries in a car accident, you need legal representation from an experienced car accident attorney. Contact the Nashville personal injury attorneys at Calhoun Law, PLC today and let us help ensure that you get the compensation that you deserve.
Resource:
waaytv.com/content/news/Tennessee-woman-dies-in-Madison-County-crash-512684681.html
https://www.calhounlawtn.com/extreme-fun-or-accident-waiting-to-happen/