Can Pedestrians Be at Fault in Accidents When Being Hit by Vehicles?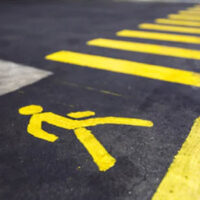 When there is a bicycle or pedestrian accident, most people generally assume that the car driver was to blame for the collision. It is true that motorists are responsible for a large percentage of crashes involving pedestrians. However, in some cases, pedestrians can also be at fault.
If you are a car driver who was involved in a pedestrian accident, you may want to seek legal help from a knowledgeable Nashville personal injury attorney to determine whether the pedestrian was partially or even fully at fault for the collision. Also, you might want to consult with a Nashville pedestrian accident lawyer if you are an injured pedestrian, and the car driver is trying to blame you for the crash.
Legal Responsibilities of Pedestrians in Tennessee
Not only motorists have legal responsibilities when operating a vehicle. In Tennessee, pedestrians have legal responsibilities, too. When getting around the city on foot, pedestrians must follow a variety of safety rules, including:
Pedestrians must always use sidewalks when they are available;
Pedestrians must obey traffic signals in crosswalks with signals;
Pedestrians must always yield the right-of-way to oncoming vehicles when crossing the road outside a crosswalk; and
Pedestrians are legally prohibited from walking along a roadway while under the influence of alcohol or drugs.
Under Tennessee law, both motorists and pedestrians must exercise due care to avoid causing harm to themselves and others. When a pedestrian fails to follow any of the aforementioned safety rules, which results in an accident, he or she may be held partially or fully responsible for the resulting injuries.
Legal Responsibilities of Motorists in Tennessee
Even though a pedestrian accident can occur due to the negligence of the pedestrian, car drivers must always fulfill their legal responsibilities when operating a motor vehicle. Motorists must exercise due care to avoid causing harm to pedestrians since pedestrians are especially vulnerable to injuries.
Some of the legal responsibilities of drivers to avoid causing pedestrian accidents include:
Obeying all traffic rules;
Yielding the right-of-way at all intersections and driveways;
Reducing speed and stopping in all areas with marked crosswalks; and
Avoiding distractions and focusing on the road.
Shared Fault in Pedestrian-Car Accidents
When both the motorist and the pedestrian fail to fulfill their legal responsibilities, both can share fault. For example, if a pedestrian crossed the street while jaywalking when a car driver exceeded the posted speed limit, both parties may share the responsibility for the resulting pedestrian-car collision.
Under Tennessee's modified comparative negligence doctrine, injured persons are eligible to recover damages when they were less than 50% at fault. This means that the injured party's compensation will be reduced by the percentage of their own negligence. Thus, if the pedestrian who was jaywalking in our example above is found to be 40% at fault, his compensation will be reduced by 40%.
Speak with our pedestrian accident attorney in Nashville to review your particular case and determine liability in your situation. Contact our knowledgeable lawyer at Calhoun Law, PLC, to schedule a consultation. Call at 615-375-4773 to establish fault in your pedestrian accident.
https://www.calhounlawtn.com/liability-in-skydiving-accidents-in-nashville-tennessee/