Can You Hold a Hotel Liable for Your Injury During a Vacation?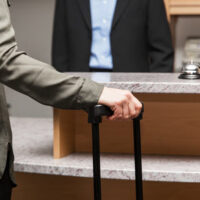 Under Tennessee's premises liability law, hotel owners are legally required to protect their patrons and guests from preventable injuries. While some hotel accidents occur due to the guest's carelessness, other hotel-related injuries happen because the owner or their employees were negligent.
If you can prove that the hotel management or its staff failed to prevent your accident, you may be able to seek compensation for your injury. Discuss your particular case with a Nashville premises liability lawyer to explore your legal options.
Hotel Owner's Negligence
Sustaining an injury and spending days or weeks (or longer) in the hospital in a foreign country is never part of a dream vacation. However, hotel accidents do happen, and they are not uncommon. While a large percentage of hotel injuries occur due to the vacationer's carelessness, which is often caused by alcohol consumption, many hotel accidents are the result of negligence on the part of the hotel and its staff.
When a hotel guest gets injured due to a hazardous condition that (a) was created by the negligence of the hotel owner or their employees or (b) should have been remedied by the hotel before the accident occurred, they can pursue a premises liability claim against the establishment.
When an Injured Guest Can File a Claim Against the Hotel
Hotel owners can be held responsible for a guest's injuries when they fail to ensure the safety of their guests. A hotel owner has a legal duty to maintain the premises free of any foreseeable and preventable hazards.
A hotel owner's failure to take reasonable steps to prevent a guest's injury may constitute negligence. In such cases, the injured guest could file a claim against the hotel owner to recover damages. An experienced premises liability attorney can help you pursue a claim against the negligent hotel to seek compensation for your medical expenses, lost wages, out-of-pocket expenses, pain and suffering, and more.
Types of Hotel Accidents
Hotel accidents are not as uncommon as it might seem. While some hotel guests are injured because of their own negligence or carelessness, accidents can happen due to the negligence on the part of the hotel owner or its employees.
Common types of hotel accidents are:
Slip and fall accidents
Negligent security incidents
Swimming pool accidents
Drowning
Trip and falls due to uneven floor tiles or bricks, missing or damaged steps, lack of handrails, and other hazards
Food-borne illnesses
Accidents caused by damaged furniture or defective equipment
The Hotel is Liable for Employees' Negligence
Since a large percentage of hotel accidents are caused by negligence on the part of hotel workers, it is important to understand that the hotel is liable for their employees' actions. Under the legal theory of vicarious liability, a hotel owner can be held liable for their employees' negligent actions that occur during the scope of their employment.
It is vital to consult with an experienced premises liability attorney in Nashville if you were injured in a hotel accident during your vacation. You may be entitled to seek financial compensation for your injury. Contact Calhoun Law, PLC, for a consultation. Call at 615-375-4773 today.
https://www.calhounlawtn.com/what-are-the-long-term-effects-of-a-traumatic-brain-injury/