How to Prove Distracted Driving in Tennessee?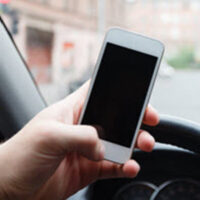 Distracted driving is one of the leading causes of car accidents and deaths on U.S. roads. If you were involved in a car crash involving a distracted driver, you might wonder how you can prove a distracted driving claim in Tennessee.
The practice of driving a car while engaged in another activity, which usually involves an electronic device of some kind, is responsible for nearly 3,000 deaths each year. According to the National Highway Traffic Safety Administration (NHTSA), distracted driving contributed to 2,841 deaths on U.S. roads in 2018 alone.
Surprisingly, Tennessee is the worst state for distracted driving in the United States. According to ValuePenguin, Tennessee ranked first as the deadliest state for distracted driving. The state had 7.2 distracted driving fatalities per 10 billion vehicle miles.
Statistically speaking, you are more likely to be involved in a car accident caused by a distracted driver in Tennessee than in any other state. This begs the question, "How do you prove distracted driving to recover damages in a personal injury claim against the distracted motorist?"
Proving Distracted Driving in Tennessee
In most cases, proving that the other motorist involved in an auto accident was distracted while operating a motor vehicle can be challenging. However, a Nashville car accident lawyer can help you gather the following types of evidence in order to prove a distracted driving claim in Tennessee:
Police and accident report. If your car crash resulted in bodily injury or property damage, you must have called the police to issue a report. The police report can play a crucial role in proving distracted driving. If the police officer believes that the crash was caused by a distraction, this information will be included in their report.
Witness accounts. If your accident was caused by distracted driving and there is a witness who can attest to that, you can strengthen your personal injury case against the at-fault party with witness testimony.
Cell phone records. One of the most reliable proofs of distracted driving is obtaining cell phone records. However, you may need a lawyer to help you file a subpoena to obtain the distracted driver's cell phone records. These records will show whether or not the motorist was distracted by their phone prior to the accident.
Video footage. Video footage can also serve as a crucial piece of evidence to prove your distracted driving claim in Tennessee. Any video footage showing that the other driver was distracted can be used as evidence, including surveillance footage, video recordings from CCTV or traffic cameras, dashcams, or even smartphones.
Social media. Since many distracted drivers are guilty of using their social media accounts while driving, it may be a good idea to investigate the at-fault motorist's social media activity. The greatest (and creepiest) thing about social media is that anything you post on the Internet is there forever. Thus, even if the driver deletes their messages, posts, or likes, after the accident, it could still be recoverable through a subpoena filed by your lawyer.
If you were injured in a vehicle crash caused by a distracted driver, do not hesitate to contact a Nashville personal injury lawyer at Calhoun Law, PLC to help you prove distracted driving. The sooner you contact a lawyer, the more evidence you can collect to prove that the other driver was distracted. Call at 615-375-4773 to schedule a case review.
Resources:
valuepenguin.com/worst-states-distracted-driving
nhtsa.gov/risky-driving/distracted-driving
https://www.calhounlawtn.com/what-are-the-long-term-effects-of-a-traumatic-brain-injury/