Hundreds of Grams of Drugs Found in Nashville Home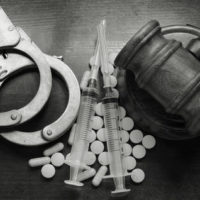 A Nashville man is facing drug and gun charges after police found hundreds of grams of drugs when they searched a Nashville apartment complex. He had previously been convicted of a felony and will be facing additional charges. Police seized 178 g of marijuana, 11 ecstasy pills, 83 g of cocaine, 39 different types of prescription pills, and a 9 mm pistol that had been reported stolen.
Drug Possession Crimes in Tennessee 
Drug possession offenses can come with stiff penalties and how severe the punishment is depends on the defendant's criminal history as well as what drug and the amount of drugs that were found in their possession. There are five types of drug possession-related charges in the state of Tennessee:
Simple Possession, Casual Exchange – This is the lowest drug offense in Tennessee. If you don't have enough drugs in your possession to be charged with a felony or other drug-related crime, then simple possession will likely be your charge. While it may be considered a relatively minor offense, it can still be a scary and serious matter. A first-time offender will face a Class A misdemeanor penalty which could result in up to one year in jail and a fine of up to $2,500.
Possession with Intent – The state of Tennessee has determined that people who possess over a certain amount of drugs are likely using the drugs for more than just personal use. Instead, they assume that you are intending to sell the drugs. This doesn't necessarily mean that you will be presumed guilty. The state will still have to prove that you had possession of drugs with the intent to sell. The is a felony charge and can carry large fines, prison time, loss of the right to vote, and loss of right to carry a firearm, among other penalties.
Sale of a Controlled Substance – When a person is charged with the sale of a controlled substance it is usually because a law enforcement officer has observed the sale of drugs. This is a felony charge and the sentence is determined by the amount and type of drugs involved as well as the location of the sale.
Drug Trafficking and Conspiracy – People involved in the distribution, production, sale, or transportation of illegal substances may be charged with this crime. The punishments for this crime are set by the federal government and judges are not allowed to give out sentences less than the penalties that are established by the feds. These crimes typically are penalized with large fines and lengthy prison sentences.
Drug Manufacturing – Some types of drugs aren't grown naturally and must be produced synthetically. The most common of this type of drugs in Tennessee is methamphetamine. Other drugs, such as cocaine and heroin, grow naturally, but require processing to use as a drug. People involved in any of these manufacturing processes can be charged with manufacturing drugs. The minimum sentence for this crime is one year of prison as well as significant monetary fines.

Consult with an Experienced Criminal Attorney 
If you are facing criminal charges for drugs in Tennessee, the penalties can include significant fines and lengthy prison sentences. It is important to have an attorney that is familiar with the laws in Tennessee to represent you and defend your rights. The attorneys at Calhoun Law, PLC, will review your case and craft the best possible defense strategy available. Contact us today to schedule a consultation.
Resource:
advance.lexis.com/documentpage/?pdmfid=1000516&crid=7f9b949a-24b7-482a-b90f-59225489a82b&nodeid=ABNAAOAAEAAT&nodepath=%2FROOT%2FABN%2FABNAAO%2FABNAAOAAE%2FABNAAOAAEAAT&title=39-17-418.+Simple+possession+or+casual+exchange.&config=025054JABlOTJjNmIyNi0wYjI0LTRjZGEtYWE5ZC0zNGFhOWNhMjFlNDgKAFBvZENhdGFsb2cDFQ14bX2GfyBTaI9WcPX5&pddocfullpath=%2Fshared%2Fdocument%2Fstatutes-legislation%2Furn%3AcontentItem%3A50J2-V4R0-R03M-S4BF-00008-00&ecomp=-_3vkkk&prid=cbaa105e-1a35-466a-8977-e965f92ea547
fox13memphis.com/top-stories/police-seize-cocaine-weed-stolen-pistol-cash-during-tennessee-drug-bust/782824502