On and Off Ramp Accidents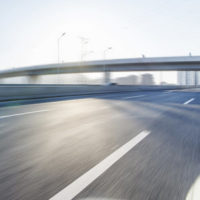 Recently, two individuals were injured in an accident that occurred on a road used to access Interstate 40 in downtown Nashville. Due to unknown reasons, the accident occurred when a minivan collided with a dump truck, which resulted in major damage to the van. Both injured individuals were transported by ambulance to a nearby hospital.
The Dangers Presented by These Ramps
There are unique dangers presented by both on-ramps and off-ramps.
Special note should be made of entry or exit ramps that begin as two or more lanes but eventually narrow into a single lane. These ramps are particularly dangerous due to unsafe lane changes.
The largest challenge presented by on-ramps is safely speeding up to enter the flow of traffic in addition to merging with the existing traffic without causing a collision. As a result of these dangers, motor vehicle drivers should make sure to look for oncoming traffic when merging and accelerating to the speed of traffic.
Off-ramps present a unique set of dangers. The most common danger involving these types of ramps arises when a vehicle fails to slow down from interstate speeds while exiting the road. A significant number of off-ramp accidents are also caused when vehicles on the off-ramp are rear-ended. Motor vehicle drivers should remember to exit a highway by slowing down before an exit without interfering with surrounding traffic and then merging onto the off-ramp. Drivers should also take note of the speed limit on the exit ramp and be prepared for sharp turns or curves.
Advice for Motor Vehicle Drivers Handling On and Off Ramps
There are a variety of dangers involving on and off ramps that can quickly endanger motor vehicle operators. Some of the safety tips that motor vehicle drivers should follow in order to avoid being involved in accidents involving off ramps include:
Be Prepared. When using a ramp, motor vehicle drivers should be fully prepared in case their vehicle will merge onto another multi lane road. Other ramps result in the motor vehicle driver facing a traffic light or stop sign. Motor vehicle drivers should be prepared for these types of traffic control devices as well.
Note the Posted Speed Limit and Other Applicable Warnings. Motor vehicle operators should always make sure to read and follow the posted speed limit and other applicable signs regarding driving patterns.
Observe Your Speedometer. It is not uncommon for motor vehicle drivers to forget how fast their vehicle is traveling. Drivers are recommended to examine their dashboard and slow down while using a ramp.
Watch for Slow Traffic Conditions Ahead. Some motor vehicle drivers slow down below the posted speed limit when using a ramp, which can create a variety of hazards for driver.
Contact an Experienced Accident Lawyer
Each year, a number of accidents that result in serious injuries and even fatalities occur involving on-ramp and off-ramp occur. If you are injured in anyway in an accident involving an on-ramp or off-ramp, do not hesitate to contact an experienced lawyer at Calhoun Law, PLC in Nashville.
Resources:
wkrn.com/2017/01/05/serious-crash-closes-ramp-to-i-40-at-4th-ave-near-downtown/
safemotorist.com/articles/intersections.aspx