Potholes Are Bad News for Tennessee Drivers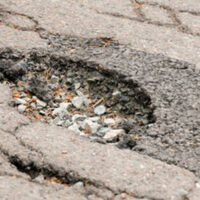 According to the Tennessee Department of Transportation, 2019 has been even worse for potholes than 2018, which was deemed "the worst year for potholes." Last year, Nashville Metro Public Works had responded to some 5,122 potholes by February 25. By the same time in 2019, they had responded to 5,679 calls already.
Unfortunately, potholes aren't just a nuisance. They can cause damage to your vehicle and can even cause serious accidents. If you have suffered injuries or damages to you or your vehicle due to a pothole, it may be time to contact the attorneys at Calhoun Law, PLC.
Potholes and Serious Accidents 
Potholes seem to be on the rise due to the growing population which results in more and more vehicles on the road. The holes in the surface of the road are created when a small crack in the asphalt allows water to gather below the surface of the road. Eventually that water freezes and melts causing the pavement to contract and expand. Eventually this causes bigger cracks and stress in the road surface. As traffic travels over the weak spots, the surface then breaks down and falls apart. Little by little the broken surface falls apart and the result is a pothole. Although many of the potholes start out small, they can eventually grow very large and result in significant damage to the vehicles traveling over them.
These potholes can wreak havoc on your tires, brakes, struts, shocks, and other components of your vehicle, but if you hit a deep pothole, the impact to you and your vehicle is similar to a collision that occurs at roughly 35 mph. This can be especially dangerous for individuals traveling on motorcycles.
Reporting Potholes 
Unfortunately, the TDOT and Metro can't be everywhere all the time. That's why if you see a pothole it is important that you report it. The Metro handles roads for the city and TDOT maintains interstate and state routes.
To report portholes to the Metro, call 311 or 615-862-5000 or submit a report at hub.nashville.gov. To report a road hazard or pothole on a TDOT road, call the local Nashville office at 615-350-4400. You can also email the information to tdot.comments@tn.gov.
Contact an Experienced Nashville Car Accident Attorney Today 
Our attorneys know how dangerous road hazards, including potholes, can be. Even if you are traveling safely on the road, you could be in a car accident due to another person driving carelessly or speeding. When they hit a pothole and lose control, you could be a victim of their bad behavior.
If you have been in an accident caused by the negligence or carelessness of another driver, contact the Nashville personal injury attorneys at Calhoun Law, PLC to schedule a consultation. We will work to get you the compensation that you are entitled to. Compensation may include reimbursement for past medical expenses, payment of future medical care, lost wages both past and present, pain and suffering, loss of enjoyment of life, and more. Contact us today to schedule a consultation.
Resource:
tennessean.com/story/news/2019/03/01/nashville-potholes-tdot-interstate-metro-public-works-weather-traffic/2996864002/
https://www.calhounlawtn.com/fault-and-liability-in-tennessee-car-accidents/